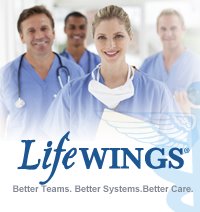 All the hospitals that have implemented the LifeWings system are taking ground breaking steps to make sure they provide the absolute safest care to their patients.
Collierville, Tennessee (PRWEB) February 23, 2013
Vassar Brothers Medical Center, in partnership with the safety experts from LifeWings, was one of the first hospitals in New York to use a safe surgery checklist. Now, they are one of the first to create a cutting edge training video to ensure every member of their surgical team becomes an expert in the use of the checklist.
Vassar Brothers Medical Center in Poughkeepsie, New York recently created a groundbreaking training for their surgical teams. The video shows exactly how a safe surgery checklist should be used to prevent medical mistakes. Using techniques learned form LifeWings, a patient safety company made up of pilots and former NASA astronauts, Vassar Brothers was one of the first hospitals in the country to adopt checklists from the aviation industry. Now, four years later, over 4000 hospitals worldwide use a safe surgery checklist.
Despite the widespread use of the checklist, numerous surgical mistakes still happen. Surgeons make such mistakes more than 4,000 times a year in the U.S., according to a study led by Johns Hopkins University School of Medicine. "These sorts of mistakes happen because very few hospitals really know how to use the checklist correctly," says Steve Harden, CEO of LifeWings Partners LLC, and former TOPGUN flight instructor and airline pilot. "Checklists look easy, but they take a lot of attention to detail and training to really work well."
"That's what makes the video training by Vassar Brothers so unique. They went to all of the time and effort to capture on film how an expert team uses a safety checklist. As they use the video in their training, every member of their surgical team will become a real TOPGUN in the use of the checklist. If I needed surgery in New York, Vassar Brothers would be among those at the top of my list."
LifeWings is a group of physicians, nurses, fighter pilots, former NASA astronauts, airline captains, medical executives, and insurance experts who have adapted -- for use in healthcare -- the same teamwork training concepts and safety tools that have made commercial aviation safer. The program has resulted in long-term improvements in patient safety for over 140 health care organizations across the nation.
The LifeWings training program was formed based on a report released in 1999 by the Institute of Medicine that showed a need for better medical training to reduce preventable medical errors and fatalities. The report stated that nearly 98,000 deaths occurred in the U.S. that year due to errors that could have been prevented.
LifeWings' clients include hospitals, clinics, surgery centers, insurance carriers, and hospital management companies. Hospital departments trained include perioperative services, surgical services, trauma, emergency medicine, cath labs, lab services, OB/GYN, labor delivery, same day surgery, intensive care units, sterile processing, family practice, executive staff, and plant services.
About LifeWings Partners LLC:
LifeWings Partners LLC is a team of physicians, nurses, former NASA astronauts, former military flight surgeons, pilots, flight crew, former military officers, and healthcare risk managers. The team has melded together the best practices of high reliability organizations such as commercial aviation, U.S. Navy aircraft carriers, nuclear submarines, and nuclear power and thoughtfully adapted those practices for use in healthcare organizations. For more information, please visit: http://www.saferpatients.com or http://www.facebook.com/pages/LifeWings/116052537363.