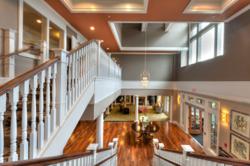 "Crestview's hope is to empower seniors with information that will enable them to plan for a successful retirement."
- Matthew Currie, Executive Director, Crestview
Bryan, TX (PRWEB) February 28, 2013
Crestview is offering a free seminar at the George Bush Presidential Library on Thursday, February 28, 2013, from 11:00 a.m. to 1:00 p.m., which will provide up-to-date information on hot topics related to retirement. Hosted by Reba Ragsdale, board chair at MRC Crestview Retirement Community, the two-hour event will bring together experts on a wide range of topics that affect not only the current generation of retirees, but also the next generation as well.
"This event is about information sharing and educating the retirement age people in our area, but it will also be helpful to those facing retirement within the next five to 10 years," said Ragsdale.
The lineup of speakers includes Denise Fries, a principal of Fries Financial Services, and Gary Alden, president, Kingwood Investment Group, LLC. They will provide information on Social Security benefits. Rene Ramirez, Veterans Services representative, will outline veteran benefits available to retirees, and attorney Mike Middleton will provide advice on estate planning and probate court. A representative from the Area Agency Council on Aging will address potential changes affecting Medicare benefits, and Peter Forbes, president, National Christian Foundation, will share advice on charitable giving.
The Methodist Retirement Communities Foundation and Crestview are sponsoring the event. Matthew Currie, Crestview Executive Director, said "Crestview is dedicated to bringing more resources to Brazos Valley seniors as part of our ongoing outreach effort. Our hope is to empower seniors with information that will enable them to plan for a successful retirement."
To RSVP for more information on the event, contact Donna Williams at 979.776.4778.
ABOUT CRESTVIEW:
Crestview Retirement Community has proudly served seniors of the Brazos Valley since 1964, and is recently undergoing a complete redevelopment into the region's first Life Care community. With over 47 years of service to the Bryan/College Station community, our reputation is built upon a solid foundation of providing quality care, programs, and services—all delivered with the highest level of customer service. Visit us at http://www.arboroaksatcrestview.com.
ABOUT MRC:
Methodist Retirement Communities (MRC) is a 501c3 nonprofit corporation which has a volunteer affiliation with the Texas Annual Conference of the United Methodist Church. Over the last 50 years MRC has grown to be a system of 10 retirement communities in six Texas cities, and serves over 1500 residents annually. Today, MRC continues to offer residential options, life-enriching programs, and professional healthcare services while honoring each resident's independence. MRC communities welcome residents of all faiths and beliefs. http://www.mrcaff.org
ABOUT The MRC Foundation:
The MRC Foundation exists to provide benevolent care funding to residents of MRC communities who have outlived their financial resources. The Foundation also works to raise funds to support the creation of new retirement communities and programs to increase the ability of MRC communities to serve a growing number of seniors.