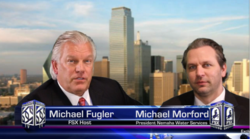 I think it is an exciting time to be involved in the [oil & gas] industry.
Dallas, Texas (PRWEB) February 25, 2013
During the recent FSX Investment Conference held in Dallas, Texas Nemaha Water Services President, Michael Morford, granted an exclusive video for FSXInterlinkedTV, an on demand Web Channel dedicated to Entrepreneurs and Investors.
During this exclusive interview that is available only on FSXInterlinkedTV Morford explained hydraulic fracturing, commonly known as fracking, and expanded on the importance of America being energy independent.
Morford went on to explain that up until the last 5 to 10 years the oil and gas industry in the US on shore was rapidly declining. Our dependence on foreign oils was increasing, and therefore our ability to be energy independent was decreasing as dependance on countries that might not necessarily support US beliefs increased. Morford's study of security policies within his military background drew him to this segment within the oil and gas industry and creating Nemaha Water Services. Now that technology allows going down into a formation, drill horizontally and fracture it open it has created the ability to go back into the very same basins that the US drilled from the 1920s until today and find more oil available for extraction. For the first time in 40 years the decline curve has changed, there is an actual uptick that has started to take off significantly.
"I think it is an exciting time to be involved in the [oil & gas] industry," stated Michael Morfod, Nemaha Water Services president.
"Research indicates that around a trillion barrels of oil could be recovered from the US shale basing. Every time a barrel of oil is obtain through fracking there are about 20 barrels of water that need to be disposed of as when you go into these shale formations you are effectively cracking open an ancient ocean. The oil was formed in the remains of the bedrock of former oceans; the water is trapped along with the oil. When you fracture the shale, you are going to get water. The ability to eventually achieve energy independence is dependent on our ability to handle this new form of drilling. You get back not only all the water used for fracking but also all these billions of barrels of water coming out of the shale formation along with the oil. The water is very toxic and needs to be disposed of properly. Companies need to understand how to properly handle and dispose of, and if possibly, recycle this water. Nemaha Water Services focuses on the long term opportunity for environmental stewardship and make it profitable for investors. "
The complete interview is available at InterlinkedTV.com.
About Nemaha Water Services & InterlinkedTV
Nemaha Water Services is an environmental oilfield service company focused on the complicated water aspect of the oil and gas industry. More information at NemahaWater.com
InterlinkedTV is an internet video production and distribution site dedicated to Entrepreneurs and Investors. We feature education, public and private companies, venture capital news, and investment events. This content is exclusive and cannot be found anywhere else. We give our members and viewers a unique chance to meet the CEOs and executives of high growth companies. More information at InterlinkedTV.com & Interlinked.com