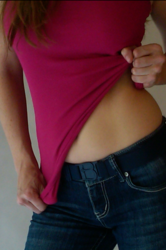 Camouflage is the key to looking your best.
Long Island, New York (PRWEB) February 22, 2013
Many people certainly wish they could instantly make their tummy fat disappear, but it's actually attainable through a few simple dressing solutions. Experts at Beltaway Belt, a leading creator of men and women's adjustable flat belts, offers tips on how to get rid of bulge so style savvy individuals can look and feel fabulous.
"Camouflage is the key to looking your best," says President Jaclyn Kaufer. "Most people do not have the ideal figure where everything looks and feels perfect, but all people want to look and feel perfect."
1. Avoid tops that are too big because they have a tendency to look bulky.
2. Avoid tops that are too tight because they have a tendency of highlighting unwanted flaws. Tops should be somewhat fitted, just enough to gently skim the body.
3. Avoid bulky belts. Beltaway Belts offers an adjustable flat belt that comfortably contours to the body and helps get rid of belt buckle bulge.
Stylish individuals will have an easier time dressing in outfits that not only look chic but will work for their figure, by following these simple guidelines. "Sometimes, the best fashion accessory is the one you don't actually see," says Kaufer.
For media inquiries and more information, contact Mark Kaufer at mark(at)beltaway(dot)com.
About the company:
Beltaway Belt is a leading fashion necessity for men and women. Created by fashion veteran and entrepreneur Jaclyn Kaufer, Beltaway is a flexible, comfortable, adjustable, flat elastic belt that moves with the individual and gives them the security of keeping everything in place, all while eliminating any bulky belt buckles. Beltaway is available in a range of neutral colors, easy to pack and travel with and ships worldwide. To see what Beltaway Belt can do for you, visit http://www.beltaway.com.