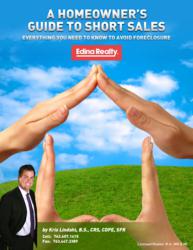 Clients of mine will be nothing less than happy.
Saint Louis Park, MN (PRWEB) February 21, 2013
Kris Lindahl of Edina Realty will host a short sale seminar in Saint Louis Park, MN later this week. The seminar is expected to reach full attendance. Lindahl is Edina Realty's number one short sale agent. The seminar will feature Lindahl recommending strategies and resources to use for each step of the short selling process.
"This is information that was previously know only to real estate professionals. I want to change that,"Lindahl said. Lindahl's dedication to customer service has earned him a top spot in the real estate community. "Clients of mine will be nothing less than happy,"Lindahl promised.
Following the presentation Lindahl will hold an hour long Q&A session in which he will address any real estate concerns. "I'm glad to be able to address any concerns the public has,"Lindahl said.
Call Kris and his team at (763) 607-1415 for more information. Visit the Minnesota Short Sale Calculator website to check eligibility. Download a complimentary copy of the eBook titled "A Homeowner's Guide To Short Sales" and check out the video series on YouTube.