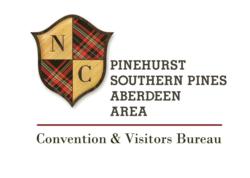 Higher demand equates to more visitor spending, generating more tax revenue, and most importantly, more jobs for Moore Co. residents.
Southern Pines, NC (PRWEB) February 25, 2013
Building off a strong 2011, Moore County's tourism sector again registered gains in most major metrics for the calendar year ending 2012 according to a report released by the county's Convention & Visitors Bureau (CVB). While these are preliminary findings, as the state of North Carolina will release county annual impact totals this summer, they have proven to be a reliable indicator of overall tourism performance each year.
Using lodging data as the primary measurement, total room night demand (one of the best overall indicators) for the market increased 2% for the year. Overnight visitors to Moore County who use lodging in the county, spend two and half to three times more than day visitors, and thus the focus on the lodging metric is a strong barometer for overall tourism. The full set of county lodging indicators for the year is listed here.

Total Room Night Demand – up 2.0 % over 2011
Room Inventory Supply – up 1.5 %
Room Occupancy % - up 0.4 %
Average Daily Rate (ADR) – up 4.0 %
Revenue Per Available Room (RevPar) – up 4.2 %
Note: this data is compiled monthly by the CVB via participating lodging properties in the county
Room Night Demand represents the total number of lodging units occupied for the year (2012) as compared to the prior year's total.
Room Inventory Supply accounts for the total lodging rooms for the county compared to last year.
Room Occupancy % show the percentage of total room occupied for the period, in this case as compared to the prior year.
ADR is the calculation of the total room revenue for a period divided by the total number of occupied rooms for the period.
RevPar also starts with total room revenue, but it is instead divided by the total number of available rooms for the period.
Moore County continues to be one of the leaders in the state with some key metrics as the resort aspect of the destination translates into a higher ADR than most other counties. "Resort destinations offer additional amenities that more traditional communities do not have, and thus the ability to drive a higher lodging rate for the total services provided to visitors," states the CVB's President & CEO, Caleb Miles. "Conversely, the occupancy percentage is typically a bit lower than more urban or business locations because resort travel revolves around the two to three days associated with weekend travel, while business travel is built around a four to five day work week period.
In addition, the seasonality of resort destinations impacts the overall lodging occupancy," says Miles. He adds that these are generalizations and there are plenty of examples of events and groups that don't follow these patterns; but when the analysis is done on an annual basis these patterns remain fairly consistent year to year.
Changes in lodging room supply can also play a role in how the yearend figures measure up. Moore County realized a small increase in total lodging inventory in 2012 (up 1.5%), which translates into a total of 2,740 rooms. Miles notes that, "new additions to the room inventory (supply) generally drive down both occupancy and ADR as they require incremental growth in demand to keep pace with the prior year performance. New hotels and existing ones often have to initially use lower rates strategies to lure existing and new clientele."
While 2012 supply showed growth, it pales in comparison to the annual double-digit growth seen during parts of the 1990's and early in the new millennium which impacted all the area hotels then and subsequent years. Hotel rooms are a perishable commodity (what wasn't sold today can't be sold tomorrow), and so as the room inventory increases the more rooms that must be sold destination-wide just to keep up.
It can be a daunting task if demand for your destination is stagnant. Conversely, if demand is increasing, the result is impactful. Higher demand equates to more visitor spending, generating more tax revenue, and most importantly, more jobs for Moore Co. residents.
Here is an example to help put destination lodging economics into perspective. A new hotel comes to town adding 100 new hotel rooms to the market. All things being equal, this change will require the addition of over 20,000 new occupied room nights annually to maintain the existing occupancy pace. "That's a significant amount of new demand required to drive these additional visitations and that normally requires more marketing and the financial resources to support it," Miles adds.
When the NC Dept. of Commerce releases their visitor spending and impact totals in the summer, Moore County will have a comprehensive view of 2012 performance. In this annual study, produced by the U.S. Travel Association, each of the 100 counties in the state is measured by Visitor Spending, Employment/Payroll, and State/Local Tax Receipts.
In 2011 Moore County ranked 11th in tourism with over $374 million visitor spending, ahead of many larger counties that aren't able to attract individual visitors, meetings, festivals and events at the same pace or dollar level achieved here. "There is no reason we shouldn't expect a 4 to 6 percent growth rate in visitor spending for 2012," says Miles, "and we expect to see some market share growth as well." No doubt more good reasons to be optimistic about tourism in Moore County and the future - which includes two USGA golf championships in the summer of 2014.