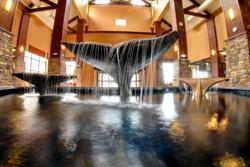 Anchorage, Alaska (PRWEB) February 21, 2013
The Embassy Suites hotel will embrace the Anchorage community as it gets ready for the 41st Iditarod sled dog race Saturday March 2nd as well as the town's annual Fur Rondy celebration Friday February 22nd. The Iditarod is famed long-distance sled dog race from Anchorage to Nome Alaska. Mushers endure harsh winter conditions as they make their trek to Nome lasting anywhere from nine to fifteen days. The race is demanding but symbolic to the history of Alaska and the hardships suffered. The Fur Rondy is a three-day winter festival that celebrates the town of Anchorage. The festival will host events such as an amateur photo contest, Championship Sled Dog Races, Rondy On Ice, Big Air Snowboarding Demos as well as traditional Blanket Tosses. Both the Iditarod and Fur Rondy festival are celebrated and supported by the Embassy Suites hotel as they are proud Anchorage traditions. The hotel encourages guests to attend both events and will provide a free shuttle service to downtown Anchorage.
The Embassy Suites Anchorage Alaska is centrally located in mid-town Anchorage, close to the Ted Stevens International Airport. Guests will feel at home in the hotel's spacious and comfortable two-room suites. Hotel amenities include free high-speed wireless internet, business center, state-of-the-art fitness center, indoor pool, as well as fine dining at the hotel's prestigious Pi Kitchen + Bar. For more information or reservations, contact the Embassy Suites Anchorage, Alaska hotel directly at 907-332-7000, or visit the hotel's website and Facebook page. Embassy Suites Anchorage Alaska is proudly managed by Stonebridge Companies in Denver, Colorado.
Founded in 1991 by Navin C. Dimond, Stonebridge Companies is a privately owned, innovative hotel management company headquartered near Denver, Colorado, which has developed over 60 hotels and operated more than 75 lodging properties. Currently, Stonebridge Companies is operating 42 hotels and developing 8 others comprising in excess of 7,000 guest rooms in Alaska, Arizona, California, Colorado, Nevada, New York, Utah, Virginia and Washington. The diverse portfolio includes select-service, extended stay, mid-scale and full-service hotels in primary and secondary markets. For detailed information, visit our website at http://www.SBCOS.com.