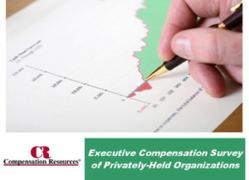 Upper Saddle River, NJ (PRWEB) February 24, 2013
Compensation Resources, Inc. (CRI) has released the results of its 2012 Executive Compensation Survey of Privately-Held Organizations. The purpose of this study was to obtain compensation data of twelve key executive positions from privately-held companies of all sizes. Data was collected between July and August and results were compiled from survey questions that were developed by CRI and distributed to companies in all industrial classifications, broken down among 10 categories. There were 52 organizations that participated in this study.
Jobs included in the survey:

Chief Executive Officer
Chief Operating Officer
Chief Financial Officer
Chief Legal Officer
Chief Information Officer
Chief Sales Officer
Chief Marketing Officer
Chief Sales/Marketing Officer
Chief Human Resources Officer
Head of Long-Range Planning
Head of Manufacturing
Controller
Along with base salary and incentive information, this survey also reports the prevalence of various programs and practices relative to executive compensation, covering annual incentives, long-term incentives, various perquisites, supplemental benefits, and agreements.
More than half of all respondents reported having a formal compensation philosophy at their company. Typically, a compensation philosophy defines a company's position on pay and is utilized for development of its compensation programs. Survey respondents reported that the majority of the executive positions sampled are eligible for short-term incentive compensation. The average target award for the Chief Executive Officer is 67.2% of base salary, with the Chief Operating Officer and Chief Financial Officer having average target awards of 56.7% and 48.6% of base salary, respectively. Also, just over half of all respondents (52.8%) indicated that they pay their executives on average with competitors with similar jobs.
For more information on ordering this survey, please contact Andy Sellers, Data Services Manager, at (201) 934-0505 x115 or visit http://www.CompensationResources.com.
About Compensation Resources, Inc. (CRI): CRI provides compensation and human resource consulting services to mid- and small-cap public companies, private, family-owned, and closely-held firms, as well as not-for-profit organizations. CRI specializes in executive compensation, sales compensation, pay-for-performance and incentive compensation, performance management programs, and expert witness services.