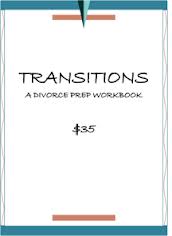 Lot's of preparation to do, I had no idea! The guidebook was a lifesaver!
Atlanta, Georgia (PRWEB) February 22, 2013
Kelley Linn, President of Transitions Resource, LLC states "Our new workbook provides the answers necessary to help minimize legal fees, shorten the legal process and help one prepare for financial independence. The workbook acts as a guide to deal with present and future financial issues. If not properly prepared, a divorce can create a life-time of emotional and financial burdens. "
The Divorce Prep workbook provides "to do" action items prior to securing a Divorce Attorney. This includes what documents will be needed, what information to gather, and advice on how to prepare for financial and custodial divorce negotiations. Furthermore, the book covers topics such as insurance needs, custody considerations for minor children, practical financial considerations regarding the family home and how to minimize expenses and maximize tax deduction implications. If needed, information includes help with domestic violence situations.
According to Kelley Linn, one of the most important sections of the workbook is the information on how to hire an attorney. This section will aid in asking the right questions to help make sure an affordable and experienced attorney is handling the case.
What Users of the book say:
Jane S., Former Transitions Client "Transitions provided all the information and resources I needed to navigate my way through the spider web madness of separation and divorce. I was educated, prepared and in charge!"
Darla M., Former Transitions Client "Lot's of preparation to do, I had no idea! The guidebook was a lifesaver!"
Nina L., LMFT, Licensed Therapist "Your Guidebook is a much needed resource and will help many people. I have already referred many clients to Transitions."
Starting in June 2013, Transitions Resource will be offering an Accredited Family Divorce Advanced Continuing Educational Series (16 Credit Hours) to educate professional counselors on how to best serve their Divorcing Clients. Included in this Advanced CE Series will be an introduction of a therapeutic clinical tool that counselors can use to help their clients process the grief of the change in their family and springboard into a joyful/hopeful future moving forward post-divorce. You may visit the Transitions Resource website to learn more about the Workbook and upcoming classes in your area.
The Divorce Prep Workbook is now available on their website and Amazon.com.