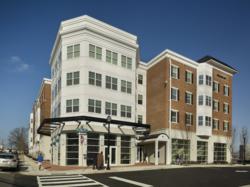 Newark, NJ (PRWEB) February 21, 2013
WHAT:
Newark Mayor Cory Booker will headline a Ribbon-Cutting celebration for Baxter Park, a newly constructed, sustainable, mixed-income, mixed-use community located on the former site of outdated public housing, at a ceremony set for Feb. 22. Mayor Booker will be joined by state and federal officials as well as members of the community and Baxter Park residents for the event, celebrating the completion of this important revitalization effort that brings much-needed housing and retail opportunities to the neighborhood connecting the University Communities to the Broad Street Station District.
When:
Friday, February 22, 2013, 11:00 a.m.
Where:
Baxter Park
2 Wellington Way, Newark, NJ
Speakers:
Mayor Cory Booker, City of Newark
Congressman Donald Payne, Jr.
Central Ward Councilman Darrin Sharif, Newark Municipal Council
Newark Housing Authority Executive Director, Keith D. Kinard
Anthony L. Marchetta, Executive Director, New Jersey Housing Mortgage Finance Agency
Diane Johnson, Field Director, U.S. Department of Housing and Urban Development
Ava Goldman, President, The Michaels Development Company
DETAILS:
Baxter Park is the first phase of a multi-phased development bringing new affordable and market-rate rental apartment homes to the site of former public housing in the Broad Street District of Newark. This innovative development features a host of green building components, including new solar voltaic panels that will generate electricity for the buildings. Other green features include energy efficient construction and appliances, use of recycled materials, water saving fixtures, and on-site storm water management. The two beautiful four-story elevator buildings feature 90 apartments and 3,000 square feet of street-level retail opportunities. Amenities include a community room and a computer lab. Developed as a public-private partnership between the Newark Housing Authority and The Michaels Development Company, funding for the $32 million Baxter Park development includes $12 million of equity raised from the sale of Low Income Housing Tax Credits and $11 million in Federal Capital Fund Recovery Grant Competition Funds (stimulus funding) awarded to the Newark Housing Authority from the U.S. Department of Housing and Urban Development. Additional financing included Newark Housing Authority Capital Funds, a permanent loan provided by the New Jersey Housing & Mortgage Finance Agency and affordable housing program funds from the Federal Home Loan Bank of New York.
The new community, which is being managed by Interstate Realty Management, is already 100 percent occupied.
Editor's Note: A ribbon-cutting photo opportunity will be available and a private tour of an apartment will be provided to the media.
About the Newark Housing Authority: The Newark Housing Authority was founded in 1938. It is the largest public housing authority in New Jersey and the eleventh largest in the country. Its mission is to invest in families by building and maintaining affordable housing to encourage economic independence and healthy communities. NHA manages approximately 10,000 housing units throughout Newark, including townhouses, housing choice vouchers, family developments, and housing for the elderly and disabled.
About The Michaels Organization: Michaels Development Company and Interstate Realty Management are part of The Michaels Organization, a family of eight integrated but independent companies dedicated to excellence in affordable, mixed-income, military, and student housing. Our mission is to create attractive residential communities for families, seniors, military service members, and students that stand the test of time and that are managed to maximize long-term value for residents as well as investors. Serving more than 100,000 residents in 340 communities across 33 states, the District of Columbia, and the U.S. Virgin Islands and with a development portfolio valued in excess of $3 billion, The Michaels Organization is a national leader in the residential real estate industry, with full service capabilities in development, property and asset management, construction, mortgage finance, and tax credit syndication. Visit http://www.TheMichaelsOrg.com for more information.