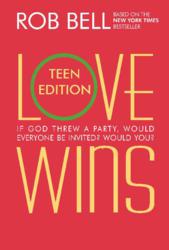 (PRWEB) February 22, 2013
Described by some as a "Christian celebrity" whose music arena appearances are filled with youthful crowds, Rob Bell is definitely a "rock star in the church world." However, in 2011, Rob sent shock waves through the Christian community when he published the New York Times bestseller LOVE WINS, a book that adamantly challenged the traditional Christian views of heaven and hell. This spring, Rob will bring his message to the plugged-in, digital savvy teen set in LOVE WINS: FOR TEENS (on-sale March 2013).
"If God threw a party, would everyone be invited? Would you?"
Focusing on the real challenges of growing up in today's world, Rob tackles the tough questions about heaven, hell, and the consequences of the choices teens make every day. In LOVE WINS: FOR TEENS, Rob argues that the church's traditional understanding of heaven and hell is actually not taught by the Bible. "Heaven isn't about escaping the world," says Bell. "It's about saying yes to Jesus's invitation for a better world. Eternal life doesn't start when we die; it starts right now."
Rob's style has been described as a "combination of Billy Graham and Conan O'Brien," and his conversational tone makes this exploration of the Bible understandable and approachable for teens. In LOVE WINS: FOR TEENS, Rob helps young adults tackle the tough questions of faith and gives them a framework to explore their beliefs. Rob wants teens to know that they have the power to define their own values away from the stringent and sometime exclusionist ideas of others. LOVE WINS: FOR TEENS is a great place to start tough conversations and to prompt teens to think about what it means to lead a good, meaningful life.
Originally published in March 2011, LOVE WINS shot to the top of the charts spending 24 weeks on the New York Times bestsellers list. It started conversations amongst Americans about heaven, hell, compassion and the very meaning of life. Rob's ideas have stirred controversy, inspired hearts, and offered insight as well as understanding. TIME Magazine named Rob one of their 100 most influential people of 2011 and Andy Crouch, an editor at Christianity Today magazine said, "Rob Bell is a central figure for his generation and for the way that evangelicals are likely to do church in the next 20 years."
Rob Bell was the founding Pastor of Mars Hill Bible Church in Grand Rapids, Michigan. He is the author of the bestselling Velvet Elvis, Sex God, Jesus Wants to Save Christians, and Drops Like Stars. A graduate of Wheaton College in Wheaton, Illinois, and Fuller Theological Seminary in Pasadena, California, Bell speaks to sold-out crowds across the world and appeared in a pioneering series of short films called NOOMA. He and his wife Kristen have three children.
LOVE WINS FOR TEENS
On-sale: 3/12/13
ISBN #9780062221872
Ages 13 and up, Grades 8 and up