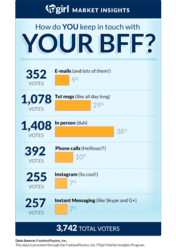 BEVERLY, Mass. (PRWEB) February 26, 2013
FashionPlaytes, Inc. today announced FPgirl Market Insights, a new market data and analysis program focused on the tween girl consumer demographic, a group with a $40B market impact, according to a recent study by market research firm W5.
FashionPlaytes is the creator of FPgirl.com, the style & fashion destination for girls, where these often-elusive young shoppers share what they think about fashion, celebrity influences, relationships, brands, shopping habits and technology trends. The data is compiled through a series of custom polls and questions designed to appeal to FPgirl's 600,000+ fashion, design and style community (http://style.fashionplaytes.com).
Responses to the kick-off questions in early 2013 – "What First Made You Interested in Fashion?" and "How Do You Keep in Touch With Your BFF?"– demonstrate that these highly independent girls are confident in a sense of style that is their own and don't yet feel the need to follow the lead of others. In addition, these girls still prefer to maintain their relationships in person and supplement them with technology, rather than let technology dominate how they stay connected.
Over the past six months, girls have submitted more than 75,000 responses to the polls and questions posted on the site, providing valuable information and insight into how these girls think about their world, their choices and what drives them. Insights uncovered through the FPgirl Market Insight program gives brands a unique and unfiltered glimpse into how these girls think. Polls are designed so that girls can choose a response from one of several options, or submit comments to share individual ideas.
"The girls on our site share so much relevant information with us about how they see fashion, what motivates them and what they want to see in terms of design, color, fabrics and style," said Sarah McIlroy, founder and CEO of FashionPlaytes. "These girls are actively helping to shape our brand and are eager to have their voices heard. Our Market Insights program is giving us such valuable color and clarity on what makes these digital natives tick."
Data from the FPgirl Market Insight Program is collected within its Style Mag online community, where girls share their thoughts on fashion, design, jewelry, school, hairstyles and all of the other things that matter most to them. Girls can post questions, answer polls and learn about fun new fashion tips, tricks and tools from FPgirls' resident experts and each other. Polls released monthly typically feature questions that receive 2,000 to over 5,000 response, complemented by smaller "flash" polls issued more frequently.
Subscribe to the Market Insights Program here. For more details or to ask about partnership opportunities, please contact insights(at)fashionplaytes(dot)com.
About FashionPlaytes and FPgirl:
FashionPlaytes is the creator of FPgirl.com, the online fashion and style destination where girls are designers and set the trends. The FPgirl community is filled with vibrant, talented, and supportive girls who create cool custom clothing, crowd-source designs, and share their insights about what it's like to be a girl in today's world. FashionPlaytes celebrates all girls, providing a fun, safe, interactive environment. Its engagement-driven ecommerce platform is fueled by girls, for girls, making it the go-to place for all things fashion related.