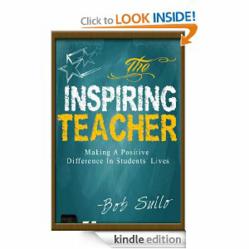 My goal is to reach as many educators and parents as possible. The revised Kindle version of 'The Inspiring Teacher' makes that possible.
Livingston, NJ (PRWEB) February 25, 2013
Bob Sullo's The Inspiring Teacher is a teaching resource for both seasoned and neophyte teachers as well as parents. The hardcopy version of the book has gone through one revision, with a change in title and updates in content. However, the most drastic revision came recently when Bob decided to produce and publish a Kindle version of the book.
The Inspiring Teacher is for those who want to positively impact the lives of their students. It provides teaching strategies to make a difference in the classroom. The Inspiring Teacher is also for parents who want their kids to internalize important values and behave responsibly even when no one is watching.
Bette Blance, the President of the William Glasser Institute, gives her take on The Inspiring Teacher:
"I read Bob's original book, The Inspiring Teacher, and was immediately impressed with the practicality of his writing and how it related to classrooms today. What Bob writes in this completely revised e-book version of his book may be new to many who are hooked into the world of external control and rewards and punishment. He talks about the pitfalls of believing that we can, and need to, motivate learners. He suggests we can learn greater skills to engage and inspire our students thus improving learning outcomes in the classroom."
The new Kindle version, published by Funderstanding, provides teaching strategies and inspirational methods for educators to implement in their classrooms as well as parents for their homes. Furthermore, with the Kindle version, the incisive insights to better teaching are now available to educators and parents more quickly, more efficiently, and inexpensively.
Bob says:
"A friend of mine from New Zealand told me the day The Inspiring Teacher became available as a Kindle book, 'It took just 30 seconds for me to get it on my reader.' Knowing that I have been able to make it easier for people around the world to get a copy of The Inspiring Teacher while saving money is gratifying for me as an author. My goal is to reach as many educators and parents as possible. The revised Kindle version of The Inspiring Teacher makes that possible." Learn more about Bob and his work by visiting his website.
The Inspiring Teacher is being offered at an introductory price of $4.99 for a limited time and purchasers so far have been very appreciative of it.
There are many arguments that can be made for either print or digital copies of a book. Most of Bob's books are in hard copy, but he acknowledges the recent trends and consumer behaviors of book lovers.
He says, "On a personal level, I have found myself transitioning from print books to e-books in the past few years. I can bring way more books with me when traveling. Weight limits on planes make it difficult to bring many print books on vacation. E-books have solved that problem."
The Kindle version of Bob's The Inspiring Teacher serves as a testament to a world that fetishizes quick access, digital interactivity, and easy mobility. Moreover, it's great that educators and parents can now easily obtain a great resource for teaching and instilling values.
About Funderstanding LLC:
Funderstanding is an ebook publishing partner company that works with authors who want to break into the ebook market. The company provides complete epublishing services as well as an expertise in ebook marketing and author branding.
Find more detailed information at:
http://www.funderstanding.com/publishing