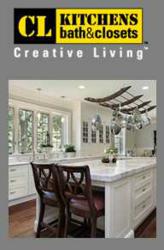 Clearwater, FL (PRWEB) February 22, 2013
CL Kitchens Bath and Closets, is proud to announce their expansion into the Clearwater/Tampa Florida area plus additional product offerings both in their stores and on-line.
This week, CL Kitchens Bath and Closets has added their eighth retail location as they opened a new showroom in Clearwater, FL. The newest location, like the others, offers one stop shopping for kitchen, bathroom, and closet solutions to their customers plus granite countertops, sinks, flooring and installation services, evidence that the company's Florida expansion plan of growing to 20 stores in 2013 is in full effect.
Along with new locations and a newly renovated user-friendly website launched in January, CL Kitchens Bath and Closets has also continued growth through an expanded product offering. When the company first opened, they were proud to offer Gallery Kitchen & Bath cabinet solutions; now, customers can benefit from a much larger selection of kitchen & bath
options with the recent introduction of their Innovations Cabinetry line and the Gallery Closet cabinetry program plus the recently added granite countertops, sinks, flooring options and installation services.
Innovations cabinetry is a European style cabinet offering with clean lines and a more modern look featuring flat panel doors. The versatility of this ready-to-assemble modular system allows you to maximize the functionality of your space while showcasing the beauty of its frameless euro-style cabinets. Shipping in 3-5 days and arriving at your door 80% pre-assembled, these euro-style kitchen cabinets and bathrooms make remodeling a breeze.
"Our growth is a reflection of our company's never-ending effort to offer more value to our customers," said Richard Healey, Founder. "Our focus is always on bettering the experience for the customer through our quality products, discounts of up to 50% and an overall great experience in each step of the process."
The new locations, expanded product line and a user-friendly website are only a small part of that great experience. CL Kitchens Bath and Closets customers can also benefit from an educational blog on design, remodeling, trends and more. They offer free design tools (3D Virtual Room Planner and Closet Design), and many other services: free in-home measures, FREE 3D design, complimentary color samples, 30-day no hassle guarantee and fast shipping in 7-10 days.
If you are remodeling, building new, a contractor, Restoration Company or a Real Estate investor contact CL Kitchens and see how they can help you: Contact CL Kitchens.
About CL Kitchens Bath & Closets
CL Kitchens Bath & Closets provides remodeling products as well as free design and installation services to homeowners, contractors and remodelers who seek quality, competitively priced products shipped in 7 - 10 days. Products include, but are not limited to semi-custom, all-wood cabinetry; Gallery Closet Cabinetry solutions; a quick-ship vanity program; in-stock granite vanity tops; custom granite countertops, sinks, flooring, professional cabinet installation services and other remodeling solutions for kitchens, bathrooms, closets and other rooms in your home or business.