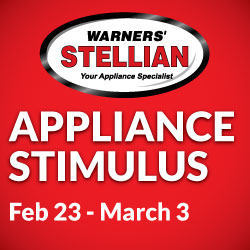 St. Paul, MN (PRWEB) February 23, 2013
Warners' Stellian re-created the government's Cash for Clunkers-style appliance rebate program that was so popular, it crashed the state's website a few years ago. Not everyone got to take advantage of the limited rebates, and customer requests for similar savings was huge. Plus, many needed new dryers, microwaves and ranges, which were excluded from the government's program. Our event has become wildly popular, so we've made it an annual mainstay and continue to make it bigger each year.
Like the state's program, rebates must be reserved online at warnersstellian.com (our salespeople can assist in-store for customers without internet access). Participants may receive up to $1,700 in rebates total but will receive at least $100 in many cases per appliance.
Sample rebates include:
$150 rebate on a refrigerator that costs between $1,000 and $1,4999
$100 rebate on a dishwasher that costs between $499 and $999
$200 for a cooking appliance which costs between $1500 and $2499.99
$50 for a freezer which costs between $299 and $499
$50 for a vacuum which costs more than $328
Rebate total details
Dishwashers (limit 1):

$499 to $999.99 - $100 rebate
$1000 and up - $150 rebate
Cooking (limit 2; include ranges, cooktops, ovens, microwaves, etc.)

$699 to $999.99 - $100 rebate
$1000 to $1499.99 - $150 rebate
$1500 to $2499.99 - $200 rebate
$1500 to $2499.99 - $300 rebate
$2500 and up - $300 rebate
Refrigeration (limit 1):

$699 to $999.99 - $100 rebate
$1000 to $1499.99 - $150 rebate
$1500 to $2499.99 - $200 rebate
$2500 and up - $300 rebate
Washer and/or Dryer (limit 1 washer and dryer):

$499 to $999.99 each - washer $50 rebate, dryer $50 or $150 for a qualified laundry pair
$1000 and up each - washer $100 rebate, dryer $100 rebate or $300 total for a qualified laundry pair
Freezers (limit 1):

$399-599.99 - $50 rebate
$600 and up - $100 rebate
Vacuums (limit 1)

Water Softeners and Heaters (limit 1; can be combined with utility rebates for even greater savings; check with your provider)

$499 to $1399.99 - $50 rebate
$1400 & up - $200 rebate
Participating brands we are advertising: Bosch, Electrolux, Samsung, Frigidaire, Whirlpool, Maytag, KitchenAid, GE, LG, Bertazzoni, Liebherr, Capital, ULine, Asko, Speed Qeen, Panasonic, Dyson, Blomberg and more.
Beyond the Stimulus rebate savings, there will be deep discounts on all categories of appliances. A few examples:

Frigidaire front load laundry pair for only $899.00 (regularly $1399)
Amana stainless steel French door refrigerator for only $1199.00 (regularly $1799).
KitchenAid stainless steel dishwasher for just $599 (regularly price of $999.99)
Save $1000 on a 4 piece stainless steel kitchen package (fridge, range, dishwasher, microwave) from GE Profile, now just $4249
Aggressive discounts on kitchen packages hope to encourage consumers to replace their existing refrigerators, ranges, microwaves and dishwashers all at once. For example, shoppers can get $1000 savings on a GE Profile stainless steel kitchen package, making it just $4249.
Plus, 18 months special financing available. And as always, local delivery (including free-standing appliance installation) and appliance recycling are free on orders $499 and above.
WHEN: Saturday, Feb. 23 to Sunday, March 3. Customers can reserve their rebate online
WHERE: Eight Warners' Stellian locations, including Minneapolis, Edina, Maple Grove, Coon Rapids, St. Paul, Apple Valley, Woodbury and Rochester.
WARNERS' STELLIAN: Warners' Stellian is Minnesota's appliance specialist. Family owned and operated for more than 50 years, Warners' Stellian provides an unmatched shopping experience with incomparable services. For more information, please visit http://www.warnersstellian.com.