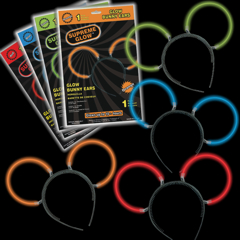 Chicago, IL (PRWEB) February 26, 2013
Windy City Novelties is happy to announce they will be coming out with three brand new LED products in the next couple months that won't be seen anywhere else. With LED and glow products growing in popularity at both large and small social events in the past few years, Windy City Novelties is making their presence known by having the next big thing before any other company. From birthday parties to national television award shows, concerts and sporting events, the public has been in a frenzy to have the next big thing. Windy City Novelties has been proudly providing these must-have items for the past 30 years.
Some of the most popular items that have surfaced in the past year alone include finger lights, LED Lumiton's and glow ears. At this year's Super Bowl, Beyoncé turned the stadium into what looked like a giant planetarium during her half time show performance as the audience donned blue finger lights. These have become a quick hit with other celebrities and fans alike. Since the Super Bowl, finger lights have been showing up at parties and events.
Another item that continues to grow in popularity and style is the infamous LED Lumiton's. Not only have they shown up in multiple national award shows, but they are continuing to grow at sporting events, concerts and bar venues. Since the popularity had continued to grow, Windy City Novelties produced the first Lumiton Soundstation; a Lumiton that lights up to the beat of music. These have already been a huge success at concert venues.
Glow products have been around since 1965 and since then they have grown in size, color and shape. Most glow products are seen at evening events, pool parties and concerts. Glow has always been a popular choice due to the durability and pricing. That is why the necklaces and bracelets are most popular at so many events. They are tough to break and last as long as the event does. Joel Zimmerman, known to his fans as Deadmau5, loves to deck his fans in glowing mouse ears to match the "Mau5head."
Windy City Novelties is excited to not only have helped provide products like those for major events but to continue to surprise the public with the next big thing!
WCN specializes in retail patented glow and LED products with factory direct pricing on over 16,000 high end items. Always being the life of the party, Windy City Novelties has experts that love lending a hand with party planning advice, tips or questions. For help, just email their expert's and be sure to check out the WCN party idea blog.