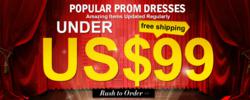 (PRWEB) February 22, 2013
Today, DressBraw.com, a renowned manufacturer and retailer of wedding dresses and special-occasion dresses, is excited to release its Cheap Prom Dresses 2013 collection, and all clients can get a discount, up to 75% off, within this month.
Edmond Liu, CEO of the company explains the features of the new collection by stating, "These new dresses feature several characteristics: affordable prices, breathable fabrics, elegant-looking, dedicated handcrafted, and individuality to keep pace with the latest trends. DressBraw.com tries its best to help each lady to show off her unique style with its trendy designs.
He adds, "Our new collection comes with top-quality materials and trendy designs. What's more important, our prices are very compettive in the market. We provide more choices with fast delivery for those who hope to buy cheap prom dresses online."
Apart from prom dresses, DressBraw.com offers other special-occasion dresses, like wedding dresses, evening dresses, cocktail dresses, and so on, at half the price a customer will pay anywhere else, and the prices are always between $150-$250. All the products will be delivered worldwide at discounted costs via premium carriers such as DHL, EMS, FedEx and UPS.
Edmond Liu emphasized, "Many ladies like our prom dresses for their dazzling beauty and elegance. If you buy your prom dresses from us now, you can save up to 75%. We always provide different styles of prom dresses at acceptable low prices."
About DressBraw.com
DressBraw.com is one of the leading suppliers of wedding & special occasion dresses from China. All the dresses they are selling are made from top quality materials and go through rigorous inspection. They have an elite team with professional skills and unlimited creativity in dressmaking.
For more information, please visit: http://www.dressbraw.com/?utm_source=content&utm_medium=news&utm_campaign=index