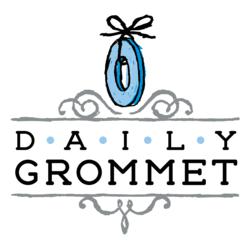 We discovered a better alternative in the handheld Blossom Flaxmill, which is designed specifically to handle the small size and shape of flaxseeds. It comes from Spice Ratchet Mills, led by Kelly Dyer
Lexington, MA (PRWEB) February 22, 2013
Daily Grommet, an online shopping site and product launch platform for innovative and undiscovered products has partnered with Spice Ratchet Mills to launch Blossom Flaxmill, a handheld flaxmill grinder.
There are many good reasons to work freshly ground flaxseed into your diet, and the Blossom Flaxmill makes it easy to start the healthy habit. Why flaxseed? It's been hailed as a wonder food that can help lower cholesterol, improve digestive health, and fight ailments including diabetes and heart disease. It's high in fiber, omega-3 fatty acids, and phytochemicals called lignans.
In its ground form, nutty-tasting ground flaxseed is easy to add to breakfast cereal, sprinkle on a salad, mix into yogurt and smoothies, or bake into cookies and breads. Plus, the ground form is easier to digest than whole flaxseed, which can potentially pass through your intestine undigested, which limits the health benefits. Whole flaxseed is available at most grocery stores, but the tricky part is getting it into ground form. Pre-ground flaxseed is available, but it can have a short shelf life.
We discovered a better alternative in the handheld Blossom Flaxmill, which is designed specifically to handle the small size and shape of flaxseeds (it also works on sesame seeds). It comes from Spice Ratchet Mills, a kitchenware company led by Kelly Dyer in Alaska. Kelly is the creator of the multifunction blossom trivet too, also featured on Daily Grommet.
About Daily Grommet
Daily Grommet is a highly curated online marketplace and launch platform for products of great utility, style or invention that haven't hit the big-time yet. Daily Grommet seeks out these unique products, carefully tests them, and produces a video review of each one telling the story behind its creation. Daily Grommet is rooted in the philosophy of Citizen Commerce whereby regular people form the commerce experience by suggesting products that reflect their values and interests. Citizen Commerce turns the typical top down retailer approach sideways, encourages global product innovation from small producers, and satisfies the consumer's need to know the stories behind and origins of favorite products. The company was also just named one of the hottest sites of 2013 by Internet Retailer. For more information, visit http://www.DailyGrommet.com.