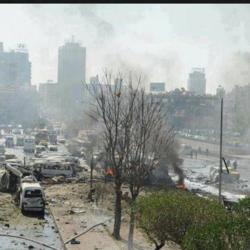 Washington DC (PRWEB) February 21, 2013
The Syrian Expatriates Organization (SEO) strongly condemns the car bombings that took place in Damascus today, killing at least 50 people. According to Reuters, the target was likely meant to be the Baath Party headquarters and the Russian Embassy in the Mazraa area of the city. Activists said that the people killed were largely innocent civilians, including children.
SEE: Car Bomb Kills 53 near Damascus Ruling Party Building http://www.reuters.com/article/2013/02/21/us-syria-crisis-blast-idUSBRE91K09W20130221
SEO condemns any attacks that target innocents, including Assad regime attacks with scud missiles on civilian areas in Aleppo on Feb.20, which killed 20 people, and today's aerial bombardment of the city of Deraa by the Assad regime, which has resulted in the deaths of 18 people.
SEE: Syria Scud-Type Missile Said to Kill 20 in Aleppo http://www.reuters.com/article/2013/02/19/us-syria-crisis-idUSBRE91I0GK20130219
"The targeting of civilians by any entity is unacceptable and constitutes a war crime," said SEO Board Member Dr. Iyad Azrak. "We also cannot discount the scenario that the Syrian regime orchestrated the car bombings in the Mazraa area, as they have done in the past. The Mezraa area of Damascus is secured by a myriad of government checkpoints. It is highly suspicious that a car laden with explosives would be able to penetrate such tight security," said Azrak.
"Ultimately, the Assad regime is responsible for the deaths of over 70,000 people in Syria. We hold the regime accountable for deterioration of security in Syria, and continue to condemn their blatant attacks on Syrian civilians with bombs, heavy weaponry, and aircraft, " said Azrak.