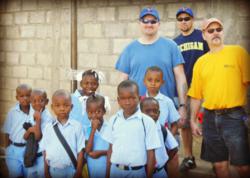 The guys are all soaking up the experience. I toured all classrooms today (there are 450 students). It was beyond words, tears at times. These children are intrigued with our presence and very curious. -Dan Lane, VP - American Metal Roofs
Grand Blanc, Michigan (PRWEB) February 22, 2013
On Tuesday, February 19, a crew four American Metal Roofs (AMR) craftsman led by company VP Dan Lane, departed Michigan to complete work on a badly needed replacement roof at Ebenezer Glenn Orphanage (EGO) in Dessalines, Haiti.
The Michigan based AMR crew is now on the ground in Haiti answering the request for help from EGO. The orphanage was in dire need of roof replacement and repairs. Along with rebuilding the entire roof system of the kitchen, the AMR crew will build three shower rooms and complete other miscellaneous building projects. EGO has been in operation for 43 years housing 30-40 children each night. The orphanage provides food, Christian education, medical care for the children.
The crew arrived Tuesday after a 4 hour delay in Miami, requiring them to make the 3.5 hour drive to the orphanage in the dark. On the first day of work they manufactured all 5 trusses until dark.
"Dark in Haiti is really dark! No lights anywhere!" reports Dan Lane, "The guys are all soaking up the experience. I toured all classrooms today (there are 450 students). It was beyond words, tears at times. These children are intrigued with our presence and very curious".
During the work days, temperatures are in the low 90's and high humidity. The crew reports lots of sweating and lots of laughter. They will be working until dark every night to complete this important ministry: being of service to the children of Ebenezer Glenn.
For more information visit: http://ebenezerglennorphanage.org
About American Metal Roofs:
American Metal Roofs provide residential and commercial metal roofing products and services throughout Michigan. Customers receive stunning, permanent, energy-saving metal roofs, professionally installed.