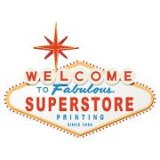 San Antonio, Texas (PRWEB) February 21, 2013
Superstore Printing announces it's fast, convenient and cost-effective online company created to give businesses a new option for outsourcing their promotional material's design and printing needs. In an economy where companies are decreasing overhead by outsourcing printing, Superstore Printing has entered an exceptionally fast growing industry. Companies are able to cut in-house costs by outsourcing printing by way of eliminating the lost expenses of destroying obsolete documents. Savings also increase on cost of printing overhead, equipment, leases, maintenance fees, not to mention the space companies are able to better utilize with the elimination of in-house printing.
Superstore Printing offers hundreds of pre-made templates for the small business owner that either isn't savvy with design ideas or simply doesn't have the time to layout a template. The custom design templates can be chosen as an option on all products, including business cards, brochures, presentation folders, and even envelopes. Customers also have the option of uploading designs created in-house by downloading Adobe Photoshop, Illustrator, or InDesign Templates from the product specs section of superstoreprinting.com.
Pricing & Shipping
Superstore printing is extremely competitive with it's pricing in the on-line printing market on all products, coming in on most products lower than major competitors. Higher Shipping costs is a way of offering lower cost products to the market and then adding these cuts back in to the shipping cost to cover the loss and take advantages of customers. Superstore Print offers low, competitive pricing and standard free shipping on all products.