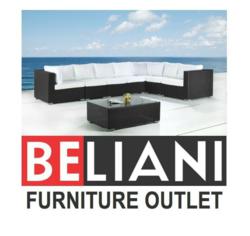 The reason IKEA was such a big success was because of the culture they created. We're going to do something similar, but obviously in our own way
Toronto, ON. (PRWEB) February 26, 2013
Canadian-based online furniture outlet, Beliani, has announced plans to expand their brand down south to the United States. The company is looking forward to bringing their discount furniture to American consumers, as they are now positioning themselves to become a major competitor in the US furniture market. They plan to carry out the expansion throughout 2013 and beyond, and they are looking to offer American customers high-end, indoor and outdoor patio furniture at considerably low prices.
For many years, the US furniture industry remained somewhat stagnant, due to poor economic conditions. However, as the home market improved, the furniture market rebounded as well leading to an overall increase in consumer confidence. The increase in confidence has encouraged many buyers to spend more on home furnishings.
For example,furniture sales increased by 8.3%, last February, making it the largest sales spike since the year 2000. Now that the unemployment rate has dropped, Americans are starting to spend more on their homes, and this includes buying new furniture.
Taking cues from the market surge, Beliani has new opportunities to capitalize on the US furniture market. Despite the increase in confidence, American consumers are much more cautious of their spending habits now, and their experiences with the economic downturn have taught them to be more frugal. However, the change in attitude towards buying has created a unique situation for Beliani to thrive in.
Since they operate as an online-only furniture outlet, they can afford to sell their furniture at greatly reduced costs, while still offering customers a broad selection of home furnishings. A large amount of their selection is products of Italian design and manufacturing. Some of their specialties include sectional and lounge patio furniture, and they are also known as one of the top online retailers for discounted leather sofas worldwide.
The furniture market is one of the toughest and most competitive industries in the retail sector. Many companies, whether they are brick-and-mortar stores, major chains, or online-only outlets, face substantial competition from companies who are household brands. Beliani is aiming to challenge these brands by offering a non-traditional approach to selling their furniture.
The company is also aiming to create their own unique brand experience. "The reason IKEA was such a big success was because of the culture they created. We're going to do something similar, but obviously in our own way," says Beliani media rep, Urs Villiger.
About Beliani
Beliani is an online furniture outlet that specializes in the retail of both indoor and outdoor patio furniture, including leather sofas. They are ranked as the top online furniture trader, and offer a wide selection of items, including sectional sofas, patio sets, wicker furniture, and leather sofas. Customers can also find a wide availability of styles, ranging from modern and contemporary designs, as well as classic designs.
Since Beliani is strictly an online retailer, they purchase straight from the factory, which means that customers can save up to 70% on furniture. Buyers can also expect rapid deliveries right to their front doors, and additional services such as part replacement for damaged items. Although, Beliani is based in Canada, they are expanding their services to the U.S.
For more information, visit http://www.beliani.com/