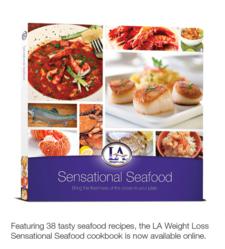 Discover the many benefits of fish and seafood while selecting, preparing and cooking healthy meals – the LA Weight Loss way.
Greensboro, North Carolina (PRWEB) February 22, 2013
Romantic dinners. Date night. Valentine's Day. Weight Loss. Typically, these two-word phrases don't go hand in hand – until now. While Valentine's Day has just passed, everyone can use good ideas to make date nights healthier the rest of the year. Thanks to LA Weight Loss, there's no need to spend exorbitant dollars in pricey, overcrowded restaurants with poor service. Romantic dinners on date nights or that special Valentine's Day meal don't have to consist of buttery shrimp or fish swimming in a creamy, mystery sauce anymore. LA Weight Loss is pleased to announce that its successful Sensational Seafood weight loss cookbook is now available online.
Discover the many benefits of fish and seafood while selecting, preparing and cooking healthy meals – the LA Weight Loss way. Fish offers the same quality and quantity of protein as meat, but often with fewer calories. Fish is also generally lower in cholesterol and is healthy for the heart. Wallets and waistlines can rejoice with the Sensational Seafood cookbook's selection of 38 nutrient-rich, easy-to-prepare recipes. Here are a few meal ideas to help those who want to stay on track with their weight loss goals – so dive right in!
Broiled Ginger Scallops – This fusion of soy sauce, garlic, ginger, lemon juice, brown sugar substitute and scallops create an excellent starter to share or a balanced main dish when paired with a simple, Asian-inspired slaw on the side.
Shrimp Jambalaya – Everyone hearts a good stew on a chilly night so tuck into a hearty bowl of jambalaya next date night. Work together as a team chopping onion, green pepper, garlic and tomato before cooking shrimp and adding rice, chicken broth, spices and vitamin-packed veggies to the saucepan. Let things boil, then simmer until rice – and hearts – are tender.
Steamed Crab – Before cracking any shells, crack the code for selecting shellfish: Look for clear, bright eyes. Shellfish should be alive and responsive if pressure is added to their shells. Most of all, crabs should not smell – if it smells fishy, it's not that fresh. Once home, place rinsed crab in a steamer basket and add to a saucepan filled with water, white wine, lemon, peppercorns, salt and a bay leaf and gently steam until heated through.
"Fish provides a rich source of omega 3 fatty acids, which have many benefits," said Regan Tessis, ND Vice President of Scientific Affairs and Consumer Health for LA Weight Loss. "Omega 3 fatty acids, particularly DHA, form and improve the fatty layer surrounding our brain cells and thus help with cognitive health, brain function, and can improve overall mood. They've also been found to prevent obesity-related chronic diseases such as diabetes and heart disease. Omega 3s, particularly EPA, help promote a healthy cardiovascular system by lowering triglycerides, improving cholesterol levels and reducing inflammation."
About LA Weight Loss
Since 1997, LA Weight Loss has helped millions of people reach their long-term weight loss goals. With the convenience of LA's at-home program, members lose an average of one to two pounds per week and learn how to keep it off for good. At LA Weight Loss, healthy living is not just for the rich and famous – it's for everyone. For more information about LA Weight Loss, visit http://www.LAWeightLoss.com.