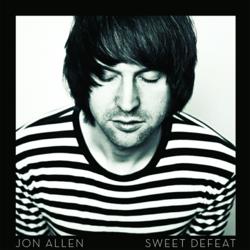 Teaneck, NJ (PRWEB) February 22, 2013
Starting today, Jon Allen fans have an opportunity to get their hands on an autographed, limited edition copy of Sweet Defeat on vinyl. To be eligible to win, fans just need to post a comment about their favorite track from Jon Allen's latest album Sweet Defeat on the contest announcement page on http://okgoodrecords.com.
The contest will remain open until 5pm EST on Tuesday March 6th. After the contest ends, a winner will be picked at random from the comments section and will be contacted within 24 hours about claiming their prize.
The special edition vinyl copy of Sweet Defeat is autographed personally by Jon Allen and is sure be a collector's item.
Songs from this British singer/songwriter have been popping up all of over American media as of late. The song "Joanna" was recently featured on the soundtrack of the movie Safe Haven which released in theaters this past Valentine's Day.
The song "Joanna" was also used in an episode of the very popular Showtime television series, "Homeland," that aired on November 11th last year. Allen's song "Sweet Defeat" found a spot on the soundtrack of the recent movie "The Oranges" (starring Hugh Laurie and Leighton Meester) and his song "When The Morning Comes (feat. Amy Smith)" was featured prominently in episode 10 of the most recent season of Fox's series "Bones."
All of the aforementioned songs are singles from Jon Allen's latest album "Sweet Defeat," which is available now from OK! Good Records (http://okgoodrecords.com), as well as iTunes, Amazon and other major music retailers.
About OK! Good Records: OK! Good Records is an independent record label based in the New York City area. Founded in 2011 as an outlet for unconventional, evocative, and genre-defying music, OK! Good's mission is to pluck talented artists from all corners of the global landscape and present them to the American public. Visit http://okgoodrecords.com for more information.