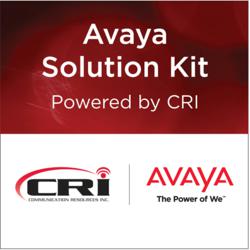 Farmingdale, NJ (PRWEB) February 25, 2013
Paul Leatherman, CTO of CRI says "CRI is excited to have Plantronics on board, providing additional value to our partners while utilizing the demonstration kit. We see this as just the beginning,"
CRI Avaya Solutions Kit (ASK) demo kit delivers Avaya's Aura Core & Applications in a single portable suitcase. The kit is designed for demonstrations, training, or other non-production environment uses. ASK powers up and is ready to use in 15 minutes or less, providing you with fast, efficient, and effective presentations. The Kit is intended for demo purposes and not for resale or production.
"Plantronics is pleased to team up with CRI to help complete the extraordinary ASK demonstration kit with Plantronics audio devices and Get Ahead program," stated Chris Brady, Plantronics' Senior Director of Strategic Business Partners. "Customers can now experience a complete solution with the addition of communication endpoints that are tailored to their specific needs or use case and seamlessly integrated with Avaya UC. With the Plantronics Get Ahead program, customers can receive free demo units for qualified pilots, and deployment discounts when they're ready to purchase."
About Plantronics - Simply Smarter Communications™
Plantronics is a global leader in audio communications for businesses and consumers. We have pioneered new trends in audio technology for 50 years, creating innovative products that allow people to simply communicate. From unified communication solutions to Bluetooth® headsets, we deliver uncompromising quality, an ideal experience, and extraordinary service. For more information, please visit http://www.plantronics.com
About CRI
CRI is the premier VMware Virtual Solutions builder and Unified Communications integrator. For over 20 years we have focused on the application side of communications providing cutting edge solutions to our customers while offering exemplary service and unmatched results. CRI is a system integrator, a Gold DevConnect partner and Partner of the Year winner 2012 for Avaya and partners with IBM, Microsoft, Citrix, and is a certified VMware Solution Provider.
CRI Delivers Tomorrow's Technology Today!
Visit us at http://www.crinj.com
or http://www.crinj.com/ask