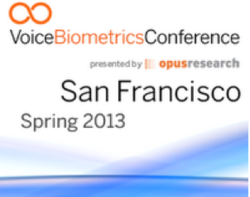 As more people use mobile devices for banking, entertainment and everyday commerce, multi-factor authentication, including voice, makes for fast, easy and strong user authentication.
San Francisco, CA (PRWEB) February 27, 2013
From May 8-9, San Francisco's Nob Hill will provide the backdrop for the voice biometric community's most important get-together, Voice Biometrics Conference (#VBCSF). The meeting will be held at The Fairmont Hotel San Francisco making it the prime meeting place for core technology vendors, application developers, integrators, contact center professionals, security strategists and solution implementers from a variety of vertical industries.
Once again, the emphasis is on sharing real-world experience. This year's Keynote Case Study will be presented by Matt Smallman, who leads the Client Experience Strategy and Change team for Wealth and Investment Management at Barclays.
In addition, VBC will feature "Reality Checks" and Use Cases to show the latest developments and deployments including the use of of voice biometrics to promote security and personalization for consumer electronics and mobile devices, as well as e-commerce oriented contact centers.
The expanding list of sponsors include NICE Systems, Nuance, Agnitio, Voxeo, SpeechPro, Sensory, TrustID, Victrio and Pindrop Security. "We're ahead of all past conferences in terms of attendees and sponsors," explains Dan Miller, conference chair and founder of Opus Research. "As banking, entertainment and general communications goes mobile, application and service providers have discovered how multi-factor authentication, including voice, makes for fast, easy and strong user authentication."
Up-to-date information on the agenda for Voice Biometrics Conference-San Francisco is available here.
About Opus Research
Founded in 1985, Opus Research is the leading industry analyst firm focusing on Conversational Commerce and the Mobile Internet technologies and markets. In addition to convening the conferences, Opus Research's experts publish reports and conduct custom consulting on automated speech processing, natural language understanding and customer care, offered through hosted and premises-based contact centers.
About the Voice Biometrics Conference
Opus Research convened the first Voice Biometrics Conference in Washington, DC, in 2007, and has held subsequent gatherings in London, New York City, Amsterdam, Jersey City and Singapore. VBC provides a single venue for attendees to get the most recent information on the state of the technology, experience the latest applications and solutions and meet solution providers and integrators.