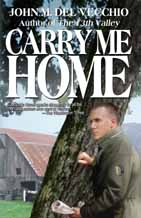 Arresting, searing and shattering...the most eloquent novel ever to examine the American Viet Nam veteran and his return home to a nation that had failed him. —International Review
Los Angeles, California (PRWEB) February 26, 2013
In a searing, insightful story of the struggle faced by many of the men who returned from Vietnam in the 1960s and 70s, acclaimed author and combat veteran John M. Del Vecchio wrote one of the best novels dealing with what we now recognize as post-traumatic stress. "Carry Me Home" is more than a novel about Vietnam and the struggles faced by veterans of that war. It is a testament to history and hope, to hometowns and homecomings, to love lost and found, to faith and family.
In this third book of a celebrated Southeast Asia trilogy, Del Vecchio displays the same heart and eye for period detail that he demonstrated in his first two post-war works ("The 13th Valley" and "For The Sake of All Living Things") but this novel is particularly poignant given that a new generation of combat veterans returning home from wars in the Middle East is suffering many similar or identical problems.
Del Vecchio introduces us to a colorful cast of Vietnam Veterans returning to the U.S. in search of redemption, and attempting to re-start lives interrupted by that controversial war. There's no broad-brush treatment or whiny tone in this powerful book. Each veteran character has his particular problems, cares, and concerns, as well as different methods of dealing with the external and internal turmoil he encounters. There is a powerfully entertaining story in "Carry Me Home," and there is an evocative, cautionary tale that can—and should—be read by anyone who cares about our new generation of combat veterans and the problems they are encountering.
Warriors Publishing Group is dedicated to connecting readers to the best in military fiction and nonfiction. WPG is a part of Warriors, Inc., the entertainment business' premiere military advisors, with credits including Band of Brothers, Saving Private Ryan, and many more. Our books provide entertainment and insight into the missions, motivations, and mentality of the military mind.