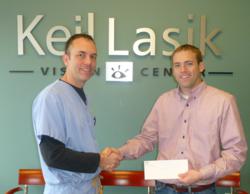 Grand Rapids, Michigan (PRWEB) February 22, 2013
Across the globe, billions of people live with limited or no access to proper vision care. Dr. Keil and Keil Lasik Vision Center are dedicated to helping the misfortunate gain access to the vision care they need. Dr. Keil partners with Mercy Ships each year to help provide cataract and other vision-restoring surgeries.
As part of these efforts, Dr. Keil recently awarded a $500 Keil Lasik Medical Mission Grant to Dr. James Singer to use for a mission to Africa this week. Dr. Singer is a resident in the Ophthalmology Residency Program at Metro Health Hospital in Grand Rapids, Michigan where Dr. Keil is the Residency Director. He will be traveling with Dr. Ralph Crew on a Mercy Ship.
Mercy Ships is a global charity that operates hospital ships to bring hope and healing to the forgotten poor in developing nations. Mercy Ships was started in 1978 and based their organization on serving all people without regard for race, gender, or religion. Since then, they have impacted over 2.35 million people with life-transforming surgeries and community development. The ships have a variety of different crew members from experienced medical professionals to volunteers.
Dr. Singer and Dr. Crew will spend their time with Mercy Ships restoring sight to dozens of people by performing much needed cataract and other eye surgeries. Cataracts are the leading cause of blindness in adults worldwide. Dr. Keil realizes the impact cataracts can have on the quality of life and donates to Mercy Ships often in support of this cause. Backed by Keil Lasik Vision Center, Dr. Singer and Dr. Crew will work to restore vision to dozens during their mission to Africa.
For more information on Dr. Keil or to set up a free Lasik consultation at Keil Lasik Vision Center call toll-free at (800) 806-3554 or visit the website at http://www.keillasik.com.
Keil Lasik Vision Center is located at 2500 E. Beltline, SE, Suite C, in Woodpointe Crossings Shopping Center.