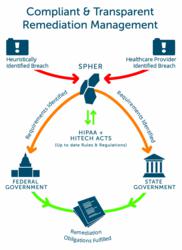 "Being 100 percent HIPAA compliant is very important. SPHER has allowed us to effortlessly and affordably meet that goal," said Gina Shearer, Privacy Officer of MRI Centers.
Torrance, CA (PRWEB) February 22, 2013
According to the Ponemon Institute's Third Annual Survey on Medical Identity Theft, there will be an estimated 1.85 million medical identity theft victims in 2012 (up from 1.41 million in 2010), costing each victim upwards of $22,346.
In addition to the importance of protecting patients' privacy, healthcare providers face serious financial penalties for non-compliance of the HIPAA Security Rule. In fact, for violations on or after February 18, 2009, the fine is now $100 to $50,000 or more per violation, with a $1.5 million maximum.
To help healthcare providers reduce the risk of financial responsibility, AMS (All Medical Solutions), the healthcare division of Fusion Systems America, introduces SPHER™ Breach Detection & Remediation Service. SPHER is an affordable service that allows providers to review their EHR audit logs quickly and easily to meet HIPAA Security Requirements. SPHER removes the complexity and stress from breach-related compliance while helping mitigate potential litigation against healthcare providers and lowering insurance premiums for malpractice and cyber security.
"Being 100 percent HIPAA compliant is very important," said Gina Shearer, Privacy Officer of MRI Centers. "SPHER has allowed us to effortlessly and affordably meet that goal by handling the EHR-centric aspects of compliance. Our patients can feel more secure with the knowledge that we have done all we can to protect their private health data."
Key features of SPHER Breach Detection and Remediation include:

Cloud-based breach detection technology that integrates seamlessly into EHR systems
Continuous intelligent monitoring that fulfills EHR data access auditing obligations
Reliable and accurate breach classification based on the very latest regulatory definitions
Smart technology that learns from experience to minimize false positive breach alerts assuring transparent, stress-free compliance.
Simple & intuitive breach remediation management interface for privacy officers
Compliant remediation pathways with itemized tasks & clear deadlines
Accurate breach classification, including physical breaches identified by privacy officers
Transparent remediation status tracking for healthcare provider managers
Complete Burden of Proof Document Management System for required archiving periods and audits
"Meeting all the requirements to prevent a breach is important," said Jeremy N. Miller, CEO of Miller Health Law Group, APLC. "But, if a breach occurs, you need to know about it as soon as possible in order to remediate it. SPHER's breach detection system approach makes sense to reduce the cost of breach remediation and compliance."
"SPHER was created because of a shared vision to bring state-of-the-art and unobtrusive breach detection, combined with convenient and 100 percent compliant breach remediation, to healthcare provider practices regardless of location or size," said Andrew Kan, an AMS partner. "This vision has been made possible by our success in EHR delivery across Southern California and by leveraging our deep experience in medical practice workflow. The creation of SPHER has also been complimented by the extensive experience and resources in product development and operations of Fusion Systems."
About AMS
AMS (All Medical Solutions) is the Healthcare and Health IT division of Fusion Systems North America, part of the Fusion Systems Group, a recognized leader in IT Solutions. Since joining the Fusion Systems Group, AMS has assisted over a thousand providers' transition to EHR in Los Angeles and Orange counties, reinforcing the company's position as one of the United States' top healthcare systems delivery firms for electronic business intelligence systems. For more information on SPHER, please visit:http://www.amsspher.com.