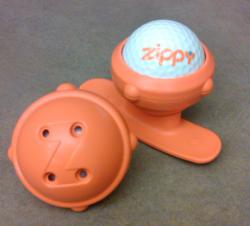 The level of our success is limited only by our imagination and no act of kindness, no matter how small, is ever wasted.
Aesop
Phoenix, AZ (PRWEB) February 25, 2013
Zing Partners LLC announces a promotional program for business and industry featuring the innovative Zippy Rolling Ball Therapy line of golf ball massage devices with your logo imprinted on the ball along with the Zippy trademarked logo. Zippy devices can be co-branded with your company name or logo imprinted on the ball at no extra charge with minimum order. Custom color production of the shell is also available to promote your brand for promotional gifts or employee purchase programs. Contact promotions(at)zippyrbt(dot)com for further information and personalized quote.
Zing Partners LLC, based in Phoenix, AZ , manufactures and distributes Zippy Rolling Ball Therapy devices for Therapy, Sport, and Life. Durable, easy to use Zippy devices are the choice of athletes, personal users, and professional therapists to treat sore muscles and joints, sooth pressure point release spots, untie knots, and bring added circulation to strains and sprains with a simple device that rolls smoothly and freely on dry skin and many fabrics.
Golf balls have long been recognized by therapists for their perfect shape and size for massage therapy. Zing Partners developed the Zippy RBT to address the question of how you hold on to a golf ball during massage. The patent applied for Zippy RBT permanently houses a USGA specification golf ball within a durable precision molded shell for smooth, easy rolling access to the known benefits of golf ball massage therapy in a compact, easy to carry device. Praised by athletes, therapists, and personal users for ease and effectiveness when dealing with the normal aches and pains of daily life, therapy, or sports competition Zippy Rolling Ball Therapy devices make wonderful gifts for business and industry as well as becoming THE next hot item for in-Spa and retail shelves.
Zippy RBT devices come in three models: the Basic, the Rocker Handle, and the T-Handle. Zippy devices are compact and convenient to carry and use, readily accessible in golf bag, purse, pocket, glove box, nightstand, and sports bag. Please visit http://www.zippymassage.com for more information.
Contact us now to schedule production of your custom Zippy RBT devices for 2013 holiday distribution.
Zippy Rolling Ball Therapy massage devices are available online at http://www.zippymassage.com and on Amazon. View Video #1 on the Zippy RBT YouTube Channel. http://www.youtube.com/watch?v=xjz02z5xyiYVisit Zippy RBT – Rolling Ball Therapy on Facebook and "Like". Follow @ZippyRBT on Twitter, https://twitter.com/ZippyRBT.
Zippy Rolling Ball Therapy devices have been submitted for the 2013 Core77 Design Awards.