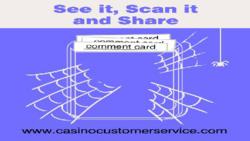 Casino comment cards are wonderful if the property prefers slow response time and lack of service recovery. In other words, the cards just don't get the job done is today's world of instant communications.
Boise, Idaho (PRWEB) February 23, 2013
Casino consultants at CasinoCustomerService.com have just released a new video that they say shows casino comment cards are often a waste of time and money.
"Comment cards are filled out by the guest and often go into a comment box, but who knows when they will be looked at and by whom," says Martin R. Baird, chief executive officer of CasinoCustomerService.com and Robinson & Associates, a guest service consulting firm to the global gaming industry. "Comment cards sound like a great way to listen to the customer, but they really are not."
Baird says he had his team create the video to provide a fun way to look at some of the flaws of comment cards. "In the olden days, businesses used comment cards because that was one of the only ways for customers to share information with them," Baird says. "Today, comment cards are simply too slow for peoples' expectations. Customers are used to tapping a couple of keys on their smartphone and seeing their comments on Yelp and Twitter instantly."
If a casino uses traditional comment cards, the time lag between a guest filling it out and the casino following up with them is too long, according to Baird. "We live in a microwave world," Baird explains. "We want a casino to follow up on our issues in real time, not a day or even weeks later."
Casinos have service delivery gaps between the service they actually deliver and what they want to deliver, Baird notes. "Casino feedback is not about never making mistakes, it's about finding patterns of when they miss the service-delivery expectation and how to recover from it," Baird explains. "Feedback is the cornerstone of customer service improvement. Part of that means the faster a casino can see what the guest would like, the faster it can respond."
Real-time customer feedback provides the opportunity for real-time service recovery and also allows casino employees to give guests a better gaming experience, Baird says. "Research shows that when a customer has a problem that is fixed quickly, they are more likely to return and tell their friends about the great experience they had," Baird says.
To watch the video, click here.
About Robinson & Associates and CasinoCustomerService.com
Martin R. Baird is a casino consultant and chief executive officer of Robinson & Associates, Inc. For 20 years, Robinson & Associates has been dedicated to helping casinos improve their guest service so they can compete and generate future growth and profitability. A Boise, Idaho-based consulting firm to the global gaming industry, Robinson & Associates is the world leader in casino guest experience measurement, management and improvement. Recently, it announced Simply Share, a real-time customer feedback platform that makes it fast and easy for casino customers to share their experience directly with casinos instead of posting comments online at social media sites.
For more information, visit the company's Web site at http://www.casinocustomerservice.com or contact Lydia Baird, director of business development, at 208-991-2037 or lbaird(at)raresults(dot)com. Read about casino customer service improvement at Martin Baird's blog at http://www.mbaird.blog.com. Robinson & Associates is a member of the Casino Management Association and an associate member of the National Indian Gaming Association.
###