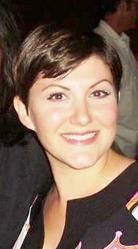 Fairfield, IA (PRWEB) February 26, 2013
The past 12 months have been a busy time for Physicians Employment Account Manager Caroline Fonvielle. During February she served her 100th client and is celebrating her first year anniversary as an employee at Physicians Employment.
"We're extremely pleased to have Caroline as a member of our team," said Physicians Employment CEO Robert Truog. "She treats hospital recruiters and search firm recruiters like good friends and works hard to help them connect with the physicians they seek. She really cares about her clients. That really shows, because her placement rate is impeccable."
To date, Caroline has a 100 percent placement rate and has assisted recruiters in finding qualified candidates for cardiology jobs, pain management jobs, pediatrics jobs, urgent care jobs and other medical positions. She also has 97 percent renewal rate, which means that clients keep coming back, based on her excellent services.
"What's amazing about Caroline is that she really didn't have a sales background before working at PhysEmp.com," said Truog, "but she's personable, funny, friendly and efficient—and a hard worker. She's really proven herself to be a quick study and an invaluable employee."
Independently owned, Physicians Employment has been connecting recruiters and employers with outstanding physicians in all specialties since 1991. The company started out as a popular magazine in 1990 and moved online in 1994. Physicians Employment prides itself on its easy physician job search, streamlined usability, and its friendly, experienced customer service team.
PhysEmp.com offers a wide range of services to assist physicians in searching for employment, including the ability to apply to an unlimited number of positions for free and access the contact information of interested recruiters. Physicians can also sign up for job listing updates in selected specialties and send their CVs directly to recruiters who have posted positions. Both locum tenens and permanent positions are available.
Clients say PhysEmp's organic, active database and excellent customer service make the site extremely useful in their line of work.
"We are extremely happy with Physicians Employment," said Vicki Fioravanti, a PhysEmp.com user and Recruitment Sourcing Specialist at Health Management Associates. "It is one of our top job boards and the matching system is great. The profile information given is accurate and most have CVs available on the physicians. The database is user friendly and the customer service is outstanding. I would highly recommend Physicians Employment to single hospitals and hospital systems."
To learn more about Physicians Employment, call 800-267-6115 or email customerservice(at)physemp(dot)com.