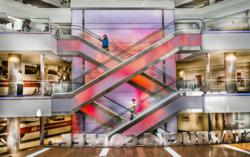 These extensive and enduring renovations are designed to keep Chevy Chase Pavilion at the forefront of the retail, office, hospitality and dining experience in the region
Washington, DC (PRWEB) February 21, 2013
Clarion Partners, LLC announces the grand re-opening of Chevy Chase Pavilion following the completion of a major, $32 million renovation project. The renovation was launched in January 2012 and included a complete reformation of the atrium, the addition of several new world-class tenants, and the renovation of the parking garage. Chevy Chase Pavilion is proud to showcase its full-service tenant roster, including RANGE by chef Bryan Voltaggio, Civil Cigar Lounge, H&M, Embassy Suites, Cheesecake Factory, J.Crew,World Market, and Starbucks. The 894,921 square foot mixed-use property is located at the intersection of Wisconsin and Western Avenues in Northwest Washington, DC.
After a 2011 renovation leading to LEED® Silver certification of Chevy Chase Pavilion's 204,621 square foot, 9-story office tower, Clarion Partners proceeded with a complete transformation of the property. The steel Atrium canopy was removed, new vertical transportation was provided, and a brilliant new media venue with a 30x60 foot synchronized graphic LED display wall with all new finishes was designed by Streetsense and constructed by HITT. RAND Construction led the build out of Range and Civil Cigar Lounge, and HITT was also in charge of the shell construction of the new H&M. Cassidy Turley handles the property management.
The showcase tenant, with sweeping views of the atrium on the second floor, is RANGE, the newest offering from James Beard Award finalist and Top Chef Season 6 runner-up chef Bryan Voltaggio. The 14,000 square foot RANGE features an open kitchen design, allowing views and interaction with the chefs behind the charcuterie, bakery, raw bar, rotisserie, wood fired hearth, and dessert and candy stations. The menu highlights seasonal ingredients sourced from the Mid-Atlantic region with a focus on local meats and seafood. RANGE is Voltaggio's exciting return to DC and has established itself as the culinary centerpiece in one of the region's most flourishing neighborhoods.
Adjacent to RANGE is the new Civil Cigar Lounge, founded by the proprietors of W. Curtis Draper, the oldest full service tobacconist in the District of Columbia and the third oldest in the United States. Civil includes a retail store featuring a selection of world-class cigars and smoking accessories, as well as a 93-seat luxury lounge with a full service bar serving premium spirits and a small plates menu from the chefs at RANGE.
Joining RANGE and Civil in the spring of 2013, will be the newest Pavilion retailer H&M, in a 3-level, 21,700 square foot space. H&M (Hennes & Mauritz AB, operating as H&M), one of the world's largest clothing retailers, was established in Sweden in 1947 and operates more than 2,500 stores in 44 markets worldwide.
"These extensive and enduring renovations are designed to keep Chevy Chase Pavilion at the forefront of the retail, office, hospitality and dining experience in the region," says Marc Deluca, Managing Director with Clarion Partners, LLC.
Joined by a fresh group of high-profile retailers, Clarion Partners and Chevy Chase Pavilion lead the industry in mixed-use destinations.
CHEVY CHASE PAVILION
5335 Wisconsin Avenue Northwest, Washington, DC 20015
http://www.chevychasepavilion.com
###
About Clarion Partners LLC
Clarion Partners has been a leading U.S. real estate investment manager for more than 30 years. Headquartered in New York, the firm has offices in major markets throughout the U.S. as well as a presence in London, Mexico and Brazil. With $27 billion in total assets under management, for over 200 institutional investors both domestic and international, Clarion Partners offers a broad range of real estate strategies across the risk/return spectrum. More information about the firm is available at http://www.clarionpartners.com.
Disclaimer
Some information contained herein is derived from selected third party sources believed by Clarion Partners to be reliable, but no representation or warranty is made regarding its accuracy or completeness. Opinions and forecasts expressed reflect the current judgment of Clarion Partners' Investment Research Group and may change without notice. Nothing herein constitutes an offer or solicitation of any product or service to any person or in any jurisdiction where such offer or solicitation is not authorized or is prohibited by law. Past performance is not necessarily indicative of future results.