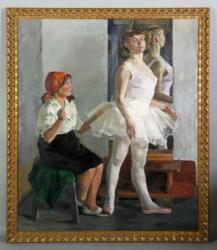 Beverly, MA (PRWEB) February 23, 2013
Kaminski Auctions announces an exciting two day March auction to take place on the weekend of March 9th and 10th. The weekend sale will feature Kaminski's Spring Fine Art sale as well as the second installment of their DéCoR Auction series. Together the two days will bring a variety of fine art, decorative objects, and furnishings to the podium.
The first day of fine art will feature a variety of high quality paintings and sculptural works. The top lot of the sale belongs to a painting signed Nicolai Ivanovich Fechin, regarded as one of the foremost Russian-American ethnic portrait painters from the early twentieth century. His modernist style comes alive in the plethora of textures that comprise Lot 2126, a still life featuring a Chinese blue and white vase. His work is predicted to bring between $40,000 and $60,000.
Other noteworthy artists in the sale include Lavrenti Zhei-Zharenko and Arthur Szyk, both important Eastern European artists. The piece by Lavrenti Zhei-Zharenko features a ballerina poised mid movement while a seamstress attends to her tutu, done in Zhei-Zharenko's lively impressionistic style. This fine piece is estimated at $10,000 to $20,000.
Two intriguing pieces by Polish artist Arthur Szyk are sure to interest many bidders during the Fine Art Auction. Day One will feature two lots by Szyk. The first is a watercolor illustrating a scene of three soldiers cheering a toast to Jan Paderewski, the second prime minister of Poland. The second piece is an illuminated envelope and letter addressed to the same prime minister. These two lots are estimated at $3,000 to $5,000 and $5,000 to $7,000 respectively.
Day One will also feature a select number of fine estate pieces, including a rare American repoussé silver tea set, made from coin silver by W. I. Tenney, a maker known for high quality coin silver items. The set carries an estimate of $6,000 to $8,000. Also offered on Day One will be an Art Deco style platinum and diamond bracelet, which is estimated to sell for between $9,000 and $12,000.
The DéCoR Auction on Day Two will offer a selection of excellent antique decorative items and furnishings perfect for the modern home. In addition to fine artworks, such as those by Carl Böker and Etienne Adolphe Piot, the sale will also offer fine wood furniture, clocks, tapestries, and other decorative items.
Carl Böker was a German nineteenth century painter known for his scenes of schoolyards. The painting in the DéCoR sale depicts a number of boys and their schoolmaster in the yard of a small school building and is estimated at $25,000 to $35,000. "At the Opera," a piece by Adolphe Etienne Piot, the successful nineteenth century French portraitist, is predicted to sell for $20,000 to $30,000.
Highlights of the furniture selection include a nineteenth century monumental Belgian or German walnut huntboard, towering at one hundred and twenty-three inches high. This impressive piece of furniture has an estimate of $7,000 to $9,000.
A bronze and shagreen covered writing table, with an estimate of $10,000 to $15,000 will also be among the fine furniture highlighted in the second day of auction. The DéCoR sale will additionally include a number of smaller decorative items, such as Lot 3100, a beautiful Faberge silver and guilloche-enameled frame with an estimate of $10,00 to $15,000.
Preview for the Fine Art and DéCoR sale at Kaminski Auctions will take place Wednesday, March 6, through Friday March 8th, from 10:00 am to 5:00pm, with preview hours extended until 8:00 pm on Friday, and starting at 8:00 am on the days of sale.
Kaminski Auctions, located on the North Shore of Boston, has been serving the New England antiques market for over 25 years as a full service auction house and appraisal service for fine art, antiques and estates.
With two locations in Beverly, Massachusetts, including a new state of the art auction gallery located at 117 Elliott Street, and a historic 1850's barn and office facility at 564 Cabot Street, Kaminski Auctions hosts 25 auctions a year.
In today's highly competitive market of fine art and antiques, Kaminski Auctions provides its customers with bicoastal services and marketing with west coast offices in Beverly Hills and San Diego, California.
Kaminski Auctions offers specialty departments in Asian Art and Antiques, Silver, Glass and Lamps, Couture and Vintage Clothing, Photography and Modern Design . We have highly trained and knowledgable appraisers on staff that will help you determine the true value of your antiques, or entire collections. Free Appraisal days are offered every Tuesday from 10:00am-4:30pm at our 564 Cabot Street location in Beverly, Massachusetts & our 5171 Santa Fe Street location in San Diego, California. We welcome emailed photos of your items!
Contact Harry Morgan - hmorgan@kaminskiauctions.com