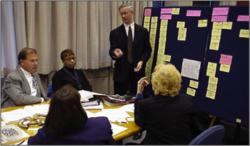 I had never seen such productivity. After four hours, we had a fully detailed and comprehensive plan.
Canonsburg, PA (PRWEB) February 26, 2013
After raising over $162 million in grant funding over 26 years, Neil Herbkersman is collaborating with The Compression Planning® Institute, a leading provider of strategic planning services in Pittsburgh, PA, to arm grant developers with a tool that makes them more effective and better able to compete for grant awards.
"A lot of these grants save young people's lives. The education and support helps them complete college and enter jobs earning family sustaining wages. That's what keeps me going" says Neil, regarding his decision to partner with The Compression Planning® Institute. Neil knows and understands the challenges grant offices face, specifically tackling proposals that start off as vague and fuzzy ideas with no real specific details or direction.
In 1990, as Director of Grants Development for Sinclair Community College in Dayton, Ohio, Neil was asked to participate in a planning session with the Ohio Board of Regents, in Columbus, Ohio.
The goal was to collaborate with seven colleges to create a grant proposal to the Ohio Department of Job and Family Services. The task was to divide Ohio's 88 counties into service delivery areas that included specific planning, details and coordination for a program for current worker training.
Neil arrived to a planning session that started at 1:00 p.m. on a Friday afternoon where a facilitator used Compression Planning® to facilitate the project.
After four hours, the team planned the entire project and accomplished everything needed to submit a $2.3 million dollar proposal that was later accepted and funded. Neil says, "I had never seen such productivity. After four hours, we had a fully detailed and comprehensive plan."
The key to the project's success according to Herbkersman was the use of Compression Planning®.
Using Compression Planning® for over 20 years allowed his team at Sinclair Community College to take fuzzy concepts and craft them into fully planned projects – from idea to proposal to funded program. Proposals must have elements such as a need, goal, objectives, activities, a management plan, dissemination plan, evaluation plan and a budget.
Compression Planning® provided Herbkersman a clear, defined, repeatable process that did not stifle but rather stimulated creativity and group contributions. This planning system allowed his team to increase productivity by a minimum of 33% faster than their competition. They worked an average of 140 projects yearly which equals averaging a deadline of 2.5 detailed projects every week.
Sinclair's success gave them the status of being the Gold Standard for grant proposal creation. Their success record is an astonishing 68% for the proposals created during his 26-year tenure with Sinclair.
Sinclair's grant proposals have been distributed nationally as best practices and their office was cited as a national benchmark for productivity. Their success in winning $20.7 million in grants from the National Science Foundation attracted other colleges and major universities to seek out Sinclair as a partner including both Purdue University and Carnegie Mellon University.
Herbkersman feels so strongly about Compression Planning® and the role it plays in the success of submitting winning proposals he is collaborating to deliver two Compression Planning® Institutes this year. The Institutes are open to any advancement professionals as well as foundations looking to better streamline their planning processes.
For more information about Compression Planning®, please visit http://www.compressionplanning.com. To read the entire case study on Neil Herbkersman, please visit http://bit.ly/V3s3eR.
For inquiries, please contact Patrick McNellis, Director of Marketing, at 724-847-2120 or pat.mcnellis(at)compressionplanning(dot)com.
About The Compression Planning® Institute:
Helping groups accelerate their ideas into action since 1978, The Compression Planning® Institute specializes in equipping individuals who are sick and tired of wasting time and talent in the endless meetings they find themselves trapped in. Jerry McNellis, founder and CEO is best known for saying, "a darn good plan with a broad base of support now is much better than a perfect plan 9 months from now." The 7-Step Visual Compression Planning® System is being used by 37 of the top Fortune 200 companies.