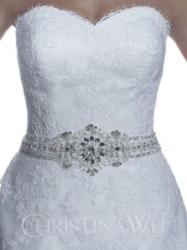 It is our responsibility to educate consumers, retailers, and the industry.
(PRWEB) February 23, 2013
Leading bridal designer Christina Wu continues its avid support of the efforts of the American Bridal & Prom Industry Association (ABPIA). Comprised of approximately 400 members including manufacturers, retailers, sales representatives, apparel marts, media resources, and other interested constituents of the formal wear industry, the ABPIA is a non-profit, federally recognized organization that has united these parties in a legal battle to stop foreign companies from allegedly flooding the market with counterfeit apparel. A new creative ad unveiled recently by the ABPIA aims to rally wedding boutiques and bridal stores to help in the fight against internet piracy.
The organization's marketing team developed the creative campaign to communicate the ABPIA's message to the masses, via major publications, Web sites, and social media platforms. The aim is to help retailers fend off the growing problem of counterfeit apparel Web sites and the sale of inferior wedding dresses to American consumers.
"It is our responsibility to educate consumers, retailers, and the industry at large about the illegal cyber retailers and the threats they pose," urged Arthur Huston, Christina Wu executive manager. "We are pleased with the recent court rulings, and we continue to support the ABPIA in the campaigns to raise awareness," he added.
On January 10, 2013, The U.S. District Court for the District of New Jersey entered a Preliminary Injunction enjoining the owners of a first group of specific internet web sites from selling counterfeit products and from using their sites to market and sell counterfeit apparel. The lawsuit (case number 3:2012cv07079) filed on November 13, 2012, by the ABPIA et al. is part of the organization's joint efforts to stop foreign companies from flooding the market with counterfeit bridal gowns and prom dresses, bypassing their American partners and going direct to consumers.
Christina Wu and the ABPIA urge collaboration among consumers, retailers, members of formal wear industry and the general public on awareness and action against the marketing and sale of counterfeit products. Christina Wu wedding gowns can be purchased only from authorized retailers. To locate an authorized retailer or browse wedding dresses, click the "Find A Store" link at http://www.christinawu.net.