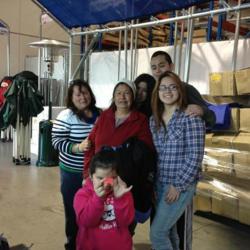 Palmdale, Ca (PRWEB) February 21, 2013
Many companies find different ways to promote and advertise their business at the lowest cost possible. One company has decided to take all the advertising dollars and give it away to their customers would no strings attached. Ace Canopy, gave away a $4000 party tent to one of its customers last Saturday for the sole reason of paying it forward. The lucky winner of the party tent shelter was Narcisco Ornelas of Lancaster, California. Narcisco was a first time visitor of the canopy tent retail store and had never purchased anything from them. Ace Canopy says it does not require any purchases to be necessary for inclusion in the party tent giveaway.
The no strings attached has served Ace Canopy very well. The canopy tent company sets aside funds for promotion and advertising every month but has decided to take that money and spend it on product that they can giveaway to their customers in order to attract more business in the long run. The result? Ace canopy has seen a 20% increase in sales since the party tent raffles have started.
Ace Canopy CEO and founder Michael Stein stated, "the party tent giveaway has been money well spent. I would rather attract word-of-mouth promotion through giving our high-end products away then paying for an expensive modality of advertising."
The party tent distributor plans to offer a high ticket raffle the last Saturday of every month and lower priced products, every Saturday in between. The idea is to get people talking about the free giveaways and promotions, and make money on the backend.
Ace Canopy is a subsidiary of Abadak Inc. the company specializes in canopies, party tents, tarps and various other types of coverings. For more information about the party tent giveaways and Ace Canopy call: 1-800-838-3057 or visit the company's website at http://www.acecanopy.com
Ace Canopy is located at 38490 Trade Center Dr., Palmdale, CA 93551.