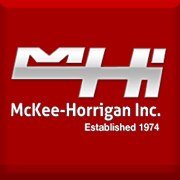 Toronto, ON. (PRWEB) February 26, 2013
McKee-Horrigan, a well known residential garage and industrial doors service company, have announced that they are committed to expanding their services to support large industrial renovations in the Greater Toronto Area. While McKee-Horrigan is best known for their work on commercial projects and industrial renovations, it has been continuously expanding their suite of services to include residential garage doors, industrial overhead doors, dock levelers, fire doors, renovations and maintenance, making this step into large industrial renovations in the GTA no surprise.
McKee-Horrigan has traditionally specialized in residential garage door services and repairs since they opened for business in 1974. This new expansion of service will have a focus on helping new and expanding businesses with their industrial renovations, doors, and construction and maintenance of dock levelers. Dock levelers are the crucial piece of technology that allows trucks to line up to the warehouse to receive merchandise. Businesses that choose this service are capable of loading and unloading vehicles efficiently and safely, with less worry of injuring workers or mishandling cargo.
The McKee-Horrigan team has varied and extensive experience in renovation, repairs, expansion and industrial doors service, which has been earned through their nearly four decades of business. Their experience in working with all sizes of businesses and corporations in the Ontario marketplace, be it in a warehouse, shopping mall, or commercial retail operation, has led to an expertise in this high-pressure field.
With the recession in 2008, many businesses in the GTA have lacked an affordable, efficient solution to the pressing need of industrial repairs and commercial expansions. McKee-Horrigan is determined to serve its customers with this expansion by providing a solution. This new effort will provide customers with added value when it comes time to renovate or maintain their projects. This also provides both loyal customers and new, prospective clients with the option of seeing one business for their potential commercial and renovation needs, as McKee-Horrigan can handle each step of the process from beginning to end. This is an effort to create a more convenient, streamlined, and efficient process for the customer. With the ability to have their needs met by one business, customers can potentially parlay this benefit into a leg up in a competitive market place.
The expansion into large industrial projects in the Greater Toronto Area is an exciting prospect for business owners and entrepreneurs who wish to expand, renovate, or maintain their commercial space.
McKee-Horrigan is a trusted business with a great deal of experience and acumen accumulated through nearly half a century of service. Their expansion into the Greater Toronto Area heralds the arrival of a dependable and accomplished source for businesses who are seeking to expand, renovate, repair, or maintain their industrial or commercial space.
For more information, visit [http://www.mckeehorrigan.com/