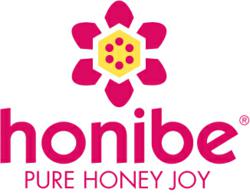 Achieving recognition as a Canadian industry leader is the highest compliment our company and I could be given. This is a testament to our team's hard work over the past 5 years while striving to spread awareness of our Honibe innovations
Charlottetown, PE, Canada (PRWEB) February 22, 2013
Island Abbey Foods Ltd, a PEI based natural health product and specialty food producer, has announced today that John Rowe, the creator of the Honibe - Pure Honey Joy® line of pure dried honey products, has been awarded the2013 Food Industry Leadership Award by Food In Canada Magazine.
The Food Industry Leadership Award by Food In Canada Magazine recognizes companies that embody the spirit of leadership, innovation and leadership success. The Food Industry Leadership Award is the successor of the Food In Canada's Processor of The Year Award. These awards reflect the enormous wealth and diversity of the Canadian Food and Beverage industry while showcasing the commitment to socially and environmentally responsible business practices that these candidates possess.
"I am thrilled to be honoured with this prestigious award by Food In Canada Magazine, a publication boasting 72 years of leadership in the Canadian food sector," stated John Rowe, President of Island Abbey Foods Ltd. "Achieving recognition as a Canadian industry leader is the highest compliment our company and I could be given. This is a testament to our team's hard work over the past 5 years while striving to spread awareness of our Honibe innovations and the health benefits of honey."
The Honibe – Pure Honey Joy brand has seen a great deal of nationwide support since their first product, the Honey Drop®, was introduced in 2008, including multiple product awards from across Canada. Honibe's recognition started to grow internationally when it won the most prestigious food award in the world at SIAL Paris 2010, the Global SIAL d'Or (Gold Medal), which recognized the Honibe Honey Drop as "The Best New Food Product in the World". Using the same proprietary technology as the award winning Honey Drop, the Honibe product line has since expanded to include Honey Delights® candies and suckers / lollipops, Honey Sprinkles™ for cooking and baking, and Honey Lozenges™ for coughs and colds. Honibe was subsequently honoured with the "Canada Brand Business Award" at SIAL Toronto in 2011. Honibe was also featured on one of Canada's most popular television shows,CBC's Dragons' Den, where entrepreneurs pitch their ideas to savvy business investors. The Dragons smelled money in the honey pot as Honibe was offered one of the largest deals in the shows history. In August 2012, the Canadian Space Agency selected the Honibe Honey Drop as one of its 'Snacks For Space' and the Honey Drop went to the International Space Station with Canadian Commander Chris Hadfield's December 2012 mission. Most recently, Island Abbey Foods was named one of Progress Magazines Fastest Growing Companies in 2012.
About Food In Canada Magazine
With over 72 years of experience Food In Canada is recognized as the voice of the food and beverage processing industry in Canada. There relationship with industry leaders across all sectors of the market enables Food In Canada to be the industry authority on all aspects of food and beverage manufacturing taking their readers from gate to plate, with an expert editorial team that delivers comprehensive and insightful analysis of key industry concerns including: Regulatory Affairs & Nutritional Labelling, Food Law, HACCP, Workplace Health & Safety, Packaging & Processing Technology, Logistics & Transportation, Ingredient Technology, Consumer Trends, New Product Launches… and much, much more.
About Island Abbey Foods Ltd.
Island Abbey Foods Ltd. is a natural health product and specialty food producer based in Prince Edward Island (PEI), Canada. We are a 6th generation PEI agricultural family business with our feet firmly planted in our Island's bright red soil (ideal for farming with its high iron and nutrient content). Honibe (hon-ee-bee) brand honey is our line of all natural, specialty honey products from PEI. Under our Honibe brand we offer innovative products like the Honey Drop, the worlds first 100% pure, no mess, solid honey: Honey To Go! We also have Honey Delights honey candies and suckers/lollipops, Honey Sprinkles granulated honey and Honey Lozenges with added menthol and eucalyptus for sore throat and nasal congestion relief.
For more information please visit us on the web at http://www.honibe.com or http://www.islandabbeyfoods.com
Sales Inquiries:
For National Regional Accounts please contact Crossmark http://www.crossmark.ca.
For Atlantic Canadian Accounts please contacts AMCA http://www.amca.ca.
If you are an independent or international customer, please contact us directly http://www.honibe.com.