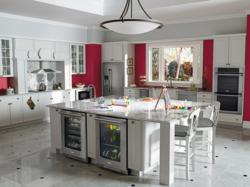 ...up to $950 via an American Express Rewards Card...
Ballwin, MO (PRWEB) February 21, 2013
Consumers purchasing select Electrolux appliances can get back up to $950 via an American Express Rewards Card if they act before February 25, 2013. Customers can choose one appliance from each of seven categories when claiming their mail-rebate.
Appliances included in the Electrolux kitchen appliance rebate include microwaves, cooktops, wall ovens, ranges, dishwashers, refrigerators, and freezers. Available cooktops include electric, gas, and induction ranges. Wall ovens included in the rebate include single oven, double oven, and microwave combination units. Refrigerators qualified for the rebate include French door and side-by-side units as well as all-refrigerator and all-freezer units.
While laundry machines are not part of this rebate, consumers seeking a rebate on Electrolux washers and dryers can find a separate $200 mail in rebate is available for select laundry pairs.
Online retailer Goedekers.com has links to the rebate forms available on all applicable appliances. Order must be placed by February 25, 2013, and mail-in rebate form must be postmarked by April 25, 2013. For questions about submitted rebates, visit myelectroluxrebates.com.
The kitchen appliance rebate is a cumulative rebate, which means that individual appliances receive rebates which may total up to $950. Rebates vary per appliance from $50 to $325. Not all Electrolux appliances qualify, and the rebate cannot be combined with any other offer.
ABOUT GOEDEKERS.COM
Goedeker's is a family owned and operated home goods retailer located in the St. Louis, Missouri, suburb of Ballwin. First established in 1951 as an electronics repair shop, Goedeker's has grown to be one of the largest, most trusted independent retailers of home appliances, furniture, mattresses, and plumbing supplies online. For more information, visit http://www.goedekers.com/.