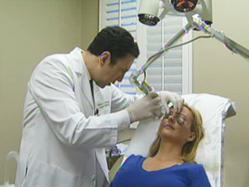 Los Angeles, California (PRWEB) February 21, 2013
When it comes to one's health, there is no such thing as having too much information. According to a January 23, 2013 ABC News article, the Centers for Disease Control (CDC) recommends that one should have a checklist of questions to answer before undergoing any sort of cosmetic surgery. (go to goo.gl/lpTec)
The number of cosmetic surgeries performed in the U.S. has steadily increased for many years. Maintaining a youthful appearance and improving natural looks through procedures such as a facelift or liposuction is more popular than ever.
"As with any medical procedure, cosmetic surgery comes with risks," says Dr. Ourian, Medical Director of Epione Beverly Hills. "The risks are often underestimated because in most cases the procedure is elective and just not viewed by patients in the same way as a typical surgical procedure."
The first item on the checklist: Do Your Homework. It is incumbent on each patient to be as informed as possible. The internet offers a wealth of information that should be mined. An informed patient is a wise patient.
Next, have realistic expectations of the results, recovery time and side effects. Again, the internet is an excellent place to start, with many physician websites offering treatment information and before and after photos. Results for some procedures may not be immediately apparent due to swelling. This is often the case for cosmetic procedures involving the nose, cheeks, chin, and eyes.
Make sure the physician is fully informed of your medical history and condition. Each patient's medical history is unique; some pre-existing conditions may make plastic surgery unwise or impossible. The initial physical evaluation is vital and combined with one's medical history gives the surgeon the information necessary to determine if a particular procedure is appropriate.
"Finally," says Dr. Ourian, "seek out referrals from trusted sources and check out the credentials of any physician that is recommended."
Dr. Ourian has been a pioneer in laser technology and non-invasive aesthetic procedures including Restylane, Juvéderm, Radiesse and Sculptra. These treatments are used for the correction or reversal of a variety of conditions such as acne, acne scars, skin discoloration, wrinkles, stretch marks, varicose veins, cellulite, and others. More information about Dr. Ourian's cosmetic surgery checklist can found on their website.