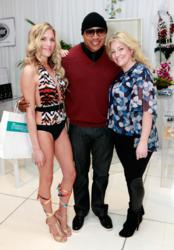 "I look forward to sharing my designs with nominees like Jennifer Lawrence, Naomi Watts and Jessica Chastain," says D'Milikah designer and founder Emily Gonzaga.
Washington, DC (PRWEB) February 22, 2013
D'Milikah Brazilian inspired swimwear has been exclusively selected as an elite brand presented to the top Oscar® Nominees in the "Everybody Wins at the Oscars®" gift bag.
The unique swimwear designs and vibrant prints of Brazilian born Designer, Emily Gonzaga, will delight Oscar® Nominees on their special night. D'Milikah Swimwear will be given to non-winning nominees in the five major categories.
The 85th Annual Academy Awards will be held at Dolby Theatre in Hollywood & Highland Center on Sunday, February 24. Televised by ABC Television Network, the show will air live in more than 225 countries and territories worldwide.
D'Milikah Swimwear was a huge hit at the Official GRAMMY® Gift Lounge held earlier this month in conjunction with the GRAMMY®s at the Staples Center in Los Angeles, CA.
In the GRAMMY Gift Lounge, stars were invited to select from five exceptional D'Milikah pieces designed exclusively for music's biggest night. Amongst the most popular was the plunging neckline tiger print monokini called the "Francine." Singers Ashanti, Chaka Khan, Miguel and Tyrese Gibson all selected the Francine design. Grammy Host LL Cool J also chose the design for his wife offering, "She's going to look beautiful in this one." Miguel noted, "It's sexy and at the same time it's very simple. A nice combination of both."
Another popular design was the "Nadia" bikini with a bandeau top that ties around the neck accented with a ring opening. This one was selected by Sting for his wife.
D'Milikah Designer, Emily Gonzaga, personally selected designs for Alicia Keys, Faith Hill and Justin Timberlake's new wife, Jessica Biel.
Due to the overwhelming success at the GRAMMY® Gift Lounge, D'Milikah Swimwear was invited back to Hollywood by Distinctive Assets to be part of this year's celebrity-studded 85th Annual Academy Awards® in the "Everybody Wins at the Oscars® Nominee Bag."
Designer Gonzaga says, "I look forward to sharing my designs with nominees like Jennifer Lawrence, Naomi Watts and Jessica Chastain."
This gift bag has no affiliation with the A.M.P.A.S or any official Academy Awards gift bag.
About D'Milikah
The D'Milikah swimwear line is Brazilian-inspired, with a touch of Italian handcrafting adorning each unique piece. Stepping away from the traditional idea of the "perfect Brazilian body," Gonzaga decided her line would capture the essence of everyday "real women." D'Milikah specializes in flattering swimwear for women of all sizes. The new summer collection entitled "Blurry Feminine" is a blend of 80s vibes and fun animal prints.
To learn more about D'Milikah, visit http://www.dmilikah.com or follow it on Twitter, Instagram and Pinterest: @DMilikah