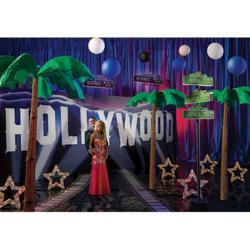 (PRWEB) February 22, 2013
Could it happen again? The first tie vote in official Academy Awards balloting was back in the 1930's, even before the advent of the Oscar statue as the trophy.
Ties have popped up a few times since. One of the most notable was the 41st Academy Awards show broadcast in 1969. That was the year that Ingrid Bergman announced from the stage at the Dorothy Chandler Pavilion of the Los Angeles Music Center, "It's a Tie!" as both Katherine Hepburn and Barbra Streisand shared the award for Best Actress. However, only Streisand took the stage to thank the first world wide television audience, as Hepburn skipped the ceremony that year.
This year marks the first that members of the Academy are able to cast their ballots online. The votes are now in and the stars, producers, directors, and studios now wait until the telecast on Sunday evening, February 24th for the results.
Shindigz, a leading party supplies provider, has been asking its party planner shoppers who they believe will take home this year's Oscar for Best Picture. With over 5,000 votes cast this month in an online poll, the current tally indicates there may be another tie in the making.
Leading the voting for Best Picture are Lincoln and Les Miserables, we have only 3 votes separating them just days before the big event. And Argo is only 20 votes behind in third place.
"We could have another tie for Best Picture," predicts Jacquie Downey, Director of Sales and Marketing for Shindigz. With three strong film contenders, wouldn't that cap off a grand Hollywood party."
For now, only the accountants at PricewaterhouseCoopers know for sure who will win when the envelope is opened live Sunday night on ABC television.
About Shindigz
Since 1926, Shindigz has "made life more fun" for 23 million events through the manufacture and sale of personalized party supplies. It ships products from its facilities in South Whitley, Indiana across the United States and around the world to 59 countries. With more than 36,000 products, it provides customers with a complete party solution. For more information about Shindigz, go to http://www.shindigz.com.