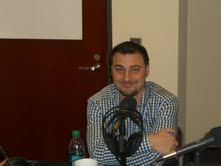 What's better about mobile versus the internet is that the information comes to you.
Atlanta, GA (PRWEB) February 22, 2013
On February 21, 2013, co-hosts Lee Kantor and Stone Payton of BusinessRadioX®'s Atlanta Business Radio sat down with Joe Tomaszewski, CEO of Thrive Mobile, to discuss the ever-changing landscape of mobile technology.
Thrive Mobile designs and develops apps for the iPhone, iPad, Android and Blackberry platforms. Their programming team works with clients to design and build fast, reliable apps that push the boundary of design, innovation and functionality. They work closely with clients to develop ideas and nurture them into world class Apps. Thrive also develops websites utilizing the latest programming standards and techniques.
Before co-founding Thrive Mobile, Tomaszewski served in various executive and business development positions with other local Atlanta mobile design and development companies. According to Tomaszewski, "I had a different vision for what a mobile development company should and could be and subsequently shaped Thrive Mobile into not just a typical mobile development company, but a full service mobile plus web design, development and digital marketing firm." As CEO, Tomaszewski runs the day to day operations and seeks to expand and further the Thrive Mobile brand.
Tomaszewski described his vision of the technological future to become completely mobile. He added, "What's better about mobile versus the internet is that the information comes to you." More and more businesses are moving towards connecting via mobile devices, and Thrive Mobile seeks to develop ideas and transform them into usable applications.
To learn more about Thrive Mobile, tune in to this episode at Atlanta Business Radio.
About Lee Kantor:
Lee Kantor has been involved in Internet radio, podcasting and blogging since he started the Dr. Fitness and the Fat Guy show in 2005. Since then, Lee has interviewed well over 1000 entrepreneurs, business owners, authors and celebrities on a variety of shows and at live events. In addition to his hosting duties, Lee is a Managing Partner at Business RadioX™ and is committed to helping entrepreneurs and business owners in Atlanta learn how to use radio to dramatically grow their businesses.
About Stone Payton:
For over 24 years, Stone Payton has been helping organizations and the people who lead them drive their business strategies more effectively. He is a Managing Partner at BusinessRadioX® and the author of SPEED®: Never Fry Bacon In The Nude: And Other Lessons From The Quick & The Dead, and has dedicated his entire career to helping others produce better results in less time.
About Atlanta Business Radio:
http://www.atlantabusinessradio.businessradiox.com
Each week, from the BusinessRadioX® studio in Sandy Springs, Lee Kantor and Stone Payton interview Atlanta, Georgia's top businessmen and businesswomen to learn what makes them the best at what they do.
About BusinessRadioX®:
BusinessRadioX® provides a turnkey solution for business owners who want to leverage the power of internet radio to meet their best prospects, establish credibility for their organization and heighten the placement of their brand in search engines rankings. With a professional venue and a proven formula, BusinessRadioX® helps hosts podcast their shows and create a regular stream of dynamic content to share with their prospects and feed the search engines every week. Programs are recorded and streamed live to the internet from our studios in the greater Atlanta area. For more information or to hear a live show, visit: http://www.businessradiox.com.