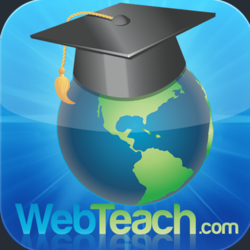 WebTeach.com participants can create and engage in best of class education experiences that can take place anywhere, anytime using virtually any web enabled device.
Pilot Mountain, NC (PRWEB) February 25, 2013
WebTeach.com™ (http://webteach.com) is pleased to announce the official beta launch of its cloud-based teaching platform. Designed to empower educators and learners of all ages and stages, WebTeach.com participants can create and engage in best of class education experiences that can take place anywhere, anytime using virtually any web enabled device. WebTeach.com offers a straight forward approach to the sharing of knowledge making it an ideal tool for both teachers and students by allowing them to manage their own learning opportunities.
As a pioneer and innovator in the online education marketplace, WebTeach.com delivers real time, live instruction. Students select their own teachers and those teachers set their own rates. The platform removes current barriers to world class education such as geography, government, private institutions and outdated delivery models.
Traditional tutoring sessions require teachers and students to schedule sessions in advance, to organize and carry with them all necessary materials and to meet at a suitable venue. WebTeach.com eliminates out of pocket expenses, lost time due to travel and obstacles to productivity by offering a cloud-based tool that fosters a streamlined interface for the sharing and consumption of knowledge. Furthermore, WebTeach.com can be deployed utilizing virtually any web enabled device including PC's, laptops, tablets and smartphones.
WebTeach.com currently offers the following features with an ever expanding list as the platform is under continuous development:

Interactive whiteboard – draw, highlight images, share pictures and free form draw
Screenshare – share an entire screen, a specific document, websites and apps
Word processor– collaborate on essays and reports
WebTeach Live! video and audio chat – participants experience the look and feel of a real classroom
Record the tutoring or teaching session for unlimited play back by the student or the teacher
Create and manage sessions utilizing a comprehensive dashboard and social media style messaging
Store and retrieve previous WebTeach Live! sessions using cloud drive archiving
The idea behind the WebTeach platform can be attributed to JW Ray, President and CEO of WebTeach.com. Previously, JW co-founded and served as Chief Operating Officer of Learn.com, which was sold to Taleo in 2010. WebTeach.com was built from the ground up to serve as an open marketplace offering students immediate connectivity to the world's best educators. The company strives to ensure that every student will have easy access to knowledge, thus enhancing their skills and ability to compete in today's ever-changing workforce and economy.
Another goal behind the development of WebTeach.com is to empower the educator and the student by removing the overhead and boundaries that can be encountered with traditional tutoring or learning facilities. With this cloud-based learning platform the end cost to students is almost 50% less, and teachers retain significantly more revenues than they would by working through a brick and mortar organization.
Finally, individuals in the U.S. and all over the world can benefit from immediate, live, interactive access to highly-qualified educators regardless of where they live. "WebTeach.com transports education to participants," says Robin DeVido, Director of Marketing for WebTeach.com. "Using WebTeach's platform, teachers and students become more productive, efficient and directly connected to one another's success."
WebTeachers and WebStudents are neither charged a monthly service fee nor are bound by maximum or minimum participation requirements. Session rates are set by each teacher and WebTeach.com simply keeps a transaction percentage. Custom enterprise options are available upon inquiry.
Mr. Ray adds: "Traditional tutoring companies require the payment of preset subscription costs, provide minimal interaction functionality and offer limited voice in the teacher/tutor selection process. It's about time a company created an affordable tool for tutoring/learning that also helps teachers retain more of their hard earned tutoring revenues. WebTeach.com offers the features and functionality that an educator needs to deliver outstanding results in every session."
WebTeach.com's development phase lasted for approximately six months prior to today's official beta launch. The intellectual framework was originally created utilizing the code base from emeet.me, which WebTeach.com acquired in 2012. Emeet.me was a cloud based platform designed to connect instructors and learners in a one-to-many online environment. Sebastian Replanksi, the software developer behind WebTeach.com, has been developing custom software and internet application systems for over 17 years.
For an overview video of WebTeach.com please click here.
To view a step-by-step introduction on how WebTeachers and WebStudents create a WebTeach Live! session, please click here.
For more information about WebTeach.com, please visit webteach.com or email learn(at)webteach(dot)com.
About WebTeach.com's Platform
WebTeach.com is hosted on secure redundant systems located within the United States. WebTeach.com is compatible with most browsers, including but not limited to Internet Explorer, Firefox, Chrome and Safari. WebTeach.com's interface is compatible with Windows and OS X.
Trademarks
WebTeach, WebTeacher, and WebStudent are trademarks of WebTeach, Inc. Other names may be trademarks of their respective owners.