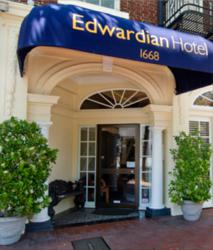 They've done a great job and Great localization, great staff, great option! - Tripadvisor
San Francisco, CA (PRWEB) February 21, 2013
The Edwardian Hotel, a mainstay of San Francisco, is relaunching itself on Feb. 21, after a year and a half of remodeling and updating its beautiful, 100-year-old building.
Not only does the renovation benefit The Edwardian Hotel, but it also lends revitalization to the Hayes Valley. As an historic building, The Edwardian Hotel is a blend of Edwardian architecture and modern, colorful design. The style is a fresh take on color, with art from San Francisco artists.
The new management team that took over the hotel in August 2011 saw the gay-friendly hotel's potential as a San Francisco establishment. Conveniently located, this Castro district hotel is near shopping, transportation, surrounded by good restaurants, and offers the most charming and affordable hotel rooms.
For reservations or more information about San Francisco's favorite boutique hotel, please call 415-864-1271, view http://www.edwardiansf.com or visit 1668 Market St. in San Francisco.
About The Edwardian Hotel
The Edwardian Hotel is located in the historic Hayes Valley neighborhood of San Francisco. New owners and management have implemented recent renovations to revive this classic 1913 building and create a boutique hotel experience. The affordable hotel rooms have modern decor and amenities that offer a feeling of getting more for less. With so many attractions nearby, The Edwardian's affordable rates are perfect for an exciting trip planned around a budget.
A few minutes away from the Castro district, this establishment is associated with the IGLTA and located between the Castro and Soma. As a hotel near transportation to exciting gay nightlife, the SOMA bars and art district, boutique shops, and many quality restaurants, this is a must-see stop on every LGBT's list. Foodies have foot access to some of the best restaurants in town, such as Absinthe Brasserie, Cafe Zuni, and Espetus Brazilian Steakhouse & Sauce. Wine connoisseurs will definitely enjoy the more than 300 varieties of vino offered at Pause Wine Bar, right next door to The Edwardian Hotel.