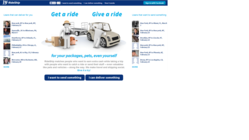 Norwalk, Connecticut (PRWEB) February 22, 2013
While not the first to leverage the web to crowdsource shipping and carpooling, RideShip.com promises to make the process of finding a travel companion or a fellow citizen to transport an item, as easy and convenient as possible.
The site allows users to act as Courier or Shipper, enter their travel points, dates, item category (person, pet, package, etc), description, photos, and the amount they are willing to pay or receive. Once the order is created, RideShip plots the start and end locations, and all points in between using multiple routes. Then, in a way much like a game of battleship, the site finds common routes among Shippers and Couriers, and suggests matches for users to connect, coordinate and pay for the trip.
The idea for RideShip came about when its founder, Frank Miele, reached his travel destination in DC, only to realize that his overnight bag was 3 states away in his living room. Mr. Miele figured there had to be someone passing by his house and heading to DC or even beyond. "If only there was a way to leverage technology to get those people to log their trips and introduce one to the other." It would be a different type of relationship, a friendship based on a common travel or shipping need, and RideShip was born. Think Foursquare with a purpose! Instead of telling the world that you checked-in at Broadway and 42nd, why not log your travel start and end points and make some money dropping something off along the way."
The landscape since the summer of 2012 has created a series of like-minded people and companies that are making carpooling and shipping more of a mainstream activity. The world is a busy place, but with fewer cars and trucks crowding the highway and people helping one another out, the world is also shrinking at the same time. Technology has given people the opportunity to share their every experience, from the most private of moments to the most common experience like arriving at an airport.
If the behavior to share experiences and moments with the world is now mainstream, why not let people monetize their everyday travel via automobile, subway, even by foot (if you live in New York City), by simply sharing their shipment or transportation need or capacity on RideShip.com. Currently the product is available via web (PCs and Tablets) but mobile is coming later in Q1 and is expected to increase the momentum of growth in members joining the community.