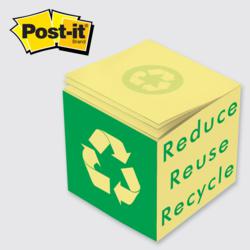 Rapid City, SD (PRWEB) February 25, 2013
Companies looking to grab the attention of potential customers and make a lasting impression with their next marketing campaign should consider custom printed Post-it® Notes Cubes from Baslercoinc. Post-it® Notes Cubes are a handy desktop tool that is working to market the company brand 24/7, as they will be used by prospects and customers on a daily basis.
Custom printed Post-it® Notes Cubes have been a cost effective promotional tool with long standing marketing success for businesses around the world, and now Baslercoinc is improving on this opportunity with a free 1-color sheet imprint. Companies looking to improve their brand marketing can do so from all five sides of their sticky note cube.
"In addition to the free 1-color sheet imprint, we are also seeing a rising trend in wanting a custom top sheet on Post-it® Notes Cubes to include a personal message from the President, CEO or Marketing Manager." says Eric Graves, National Sales Manager at Baslercoinc. Available options for side printing include as little as a 1-color; 1-design imprint all the way up through four different 4-color designs on each side of the cube.
For companies looking to advertise their goods, services and contact information in a manner that will be seen by customers on a daily basis, custom imprinted Post-it Notes Cubes are the answer. This desktop marketing tool has good value and remains on buyers' desks keeping the company's information at their fingertips.
Baslercoinc products include regular and die-cut pads, cubes, flags, pens, highlighters, organizers and dispensers. Baslercoinc also provides a variety of unique options such as custom top sheet printing, alternating copy (rotating throughout the pad), second side printing, quick response on large quantity orders and custom sizes. To review additional products, visit us at http://www.baslercoinc.com/