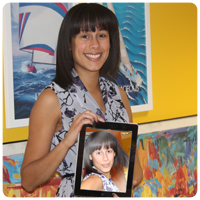 Morristown, N.J. (PRWEB) February 21, 2013
GráficaGroup, a New Jersey-based integrated marketing and advertising agency that specializes in multichannel marketing communications, announced today that it has hired Nothailah Badawi as Media Director.
Nothailah has a wealth of experience and knowledge in media planning, buying, analytics, and more. "She is a great addition to our team with her specialization in multichannel markets and her upbeat personality," said Anne Picone, general manager. "She was thrown right in from the minute she started and we were thrilled with her ability to adapt and succeed so quickly."
After spending three years at JL360 and working her way up to a senior media planner, Nothailah spent time working with the clients as well as doing digital plans. After learning so much about digital by working with it constantly, Nothailah decided she needed a change. "GráficaGroup seemed like the perfect place for me because it's a full-service agency in New Jersey. I wanted to be part of the bigger picture and it's exactly what I was looking for."
Her previous work experience includes multiple years with News America, part of News Corporation. Starting as a Media Buyer, she was involved with rate negotiations for print advertising. She then moved on to Regional Analyst, where she worked on corporate contract negotiations. Nothailah first broke into the media field at Active International.
About GráficaGroup
Celebrating 27 years in business, GráficaGroup is an award-winning, results-driven, multichannel agency that enables businesses to establish and nurture lasting, meaningful relationships with their customers across all categories. They include Fortune 500 and mid-sized B2B and B2C companies such as AT&T, Avaya, Century 21 Real Estate LLC, Horizon Blue Cross Blue Shield of New Jersey, Jackson Hewitt Tax Service, KPMG LLP, Morgan Stanley, PSE&G, Summit Medical Group, Trane, Weichert, Realtors, and Wells Fargo Home Mortgage – as well as public sector and not-for-profit organizations. For more information, visit http://www.grafica.com.
###
Media Contact: Adrianna Taeschler
Phone: 973-309-7522
Email: ataeschler(at)grafica(dot)com