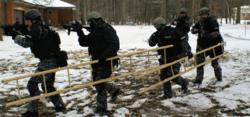 "This product is cutting-edge technology brought to the law enforcement tactical arena."
Elbridge, NY (PRWEB) February 25, 2013
Getting people excited about a ladder can be difficult, until they hold this one.
During the prototyping phase of the Armadillo Tactical Ladder System, J.B. Allred, president of Armadillo Tactical Gear in Upstate New York, initially had to work hard to get the attention of special operations and law enforcement professionals at trade shows and conferences. "But once I got the Armadillo Tactical Ladder System into their hands, right away I'd have them hooked to learn more," Allred said.
After extensive design, testing and evaluation, Armadillo Tactical Gear is announcing full-scale production of the Armadillo Tactical Ladder System, designed for rapid deployment in situations where agility, strength, and quiet operation are paramount, such as S.W.A.T. or Special Forces applications.
The key advantage is that Armadillo's carbon-fiber construction makes it extremely lightweight – one-third the weight of a conventional aluminum ladder. It is light enough to be moved quickly and quietly, but is rated strong enough to safely support 350 pounds. The 12-foot segmented design can also break down into three to five smaller ladder segments.
The tactical ladder system was developed after Allred and his team were informed by special operations personnel that the weight of conventional ladders was a significant impediment to being able to move quickly and quietly during a mission. So the Armadillo team designed the Armadillo Tactical Ladder System as a versatile, multi-function tool for special operations professionals, which meets needs that cannot be met by any other ladder. The Armadillo Tactical Ladder System also transforms into a bus assault platform, temporary bridge, medical litter, and other functions.
Armadillo was invited to a New York State Police training exercise in Albany where the police officers used the Armadillo Tactical Ladder System. After the exercise, the New York State Police asked if they could borrow three of the ladder systems for a live tactical operation the next day. "That's the moment we knew we had something really valuable," said Allred. "The ladder system is only limited by the range of our imagination and the specific operational needs of our customers," he added.
Armadillo Tactical Gear continues to receive positive feedback from a wide range of special operations professionals, some of which led to adjustments in the system's design to expand beyond the primary use as a ladder. "Because we are manufacturers as well as designers, we work with current and potential clients to customize extension and expansion kits for the system," Allred explained. "It's really a multi-purpose system which can replace a range of single-use products."
"This product is cutting-edge technology brought to the law enforcement tactical arena," said Sgt. John Savage, Assistant Team Commander with the Syracuse Police Department Emergency Response Team. "The potential versatility through accessorizing the base model makes this a multi-tool must-have for all tactical teams."
"Our firm believes strongly in the important work that law enforcement personnel do for all of us. We see that our mission is to support their missions," Allred said.
For more information about evaluating the Armadillo Tactical Ladder System, visit http://www.armadillotacticalgear.com/ or call 315.252.2559 to speak to an Armadillo team member.